16.08.2021,16:08 2553 0
History of Cricket in New Zealand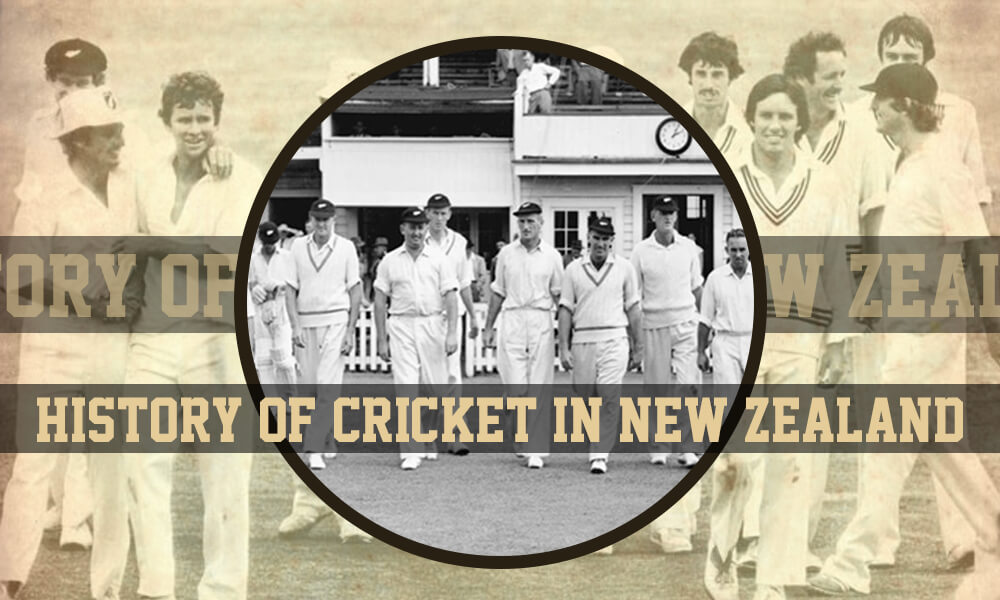 The country of New Zealand has inherited cricket from their European colonisers, especially the British. They have been one of the oldest teams in the game of cricket. This team, also known as the Black Caps, have had many heartbreaking misses from winning ICC trophies. They have lost two World Cup finals in 2015 and 2019. The 2019 World Cup final resulted in a draw against hosts England but lost on the boundary count. New Zealand made a comeback after winning the first ICC World Test Championship 2021. They have also won the ICC KnockOut Trophy in 2000. Let us now have a closer look at the history of cricket in New Zealand.
History
The first record of cricket in New Zealand can be found in the diary of Henry Williams reporting about a cricket match at Horotutu Beach in December 1932. The first recorded game of cricket took place in Wellington in December 1842. This match was played between the Red and the Blue team of Wellington Club.
Teams from England and Australia started touring New Zealand in 1863. The first team to tour New Zealand was Parr's all England 11. The maiden first-class match was played between Otago and Canterbury at the South Dunedin Recreation Ground in January 1864. Otago won this match by 76 runs. The Otago vs Canterbury match was played every year from 1864 and later on was a part of the Plunkett Shield 1911-1912. During the period from 1863 to 1914, 22 teams toured New Zealand. These included 6 teams from England, 15 from Australia and 1 team from Fiji. Regular first-class matches were played in New Zealand at places such as Otago, Canterbury, Auckland, Wellington, Hawke's Bay, Neilson, Taranaki. Plunkett Shield was the first domestic tournament for New Zealand Cricket.
In 1894, the New Zealand national team played their first match against New South Wales at Lancaster Park in Christchurch. New South Wales won this match by 160 runs. The first international match for New Zealand was against the mighty Australian team. The match was abandoned due to rain. However, in the second match, they faced a terrible loss by an innings and 358 runs.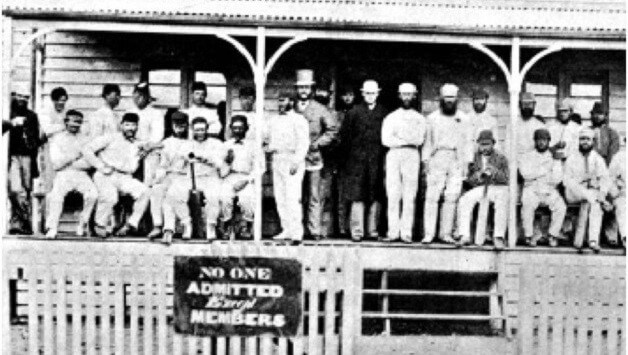 First first-class match in New Zealand (source)
History of Test CricketIn 1927, New Zealand went on their first tour to England. This tour consisted of 26 first-class matches with the England County cricket clubs. Out of the total number of fixtures, NZ managed to win 7 matches which were achieved against counties such as Worcestershire, Somerset, Derbyshire and Glamorgan. Due to this impressive performance of the NZ team, they were granted Test status. Later in 1929, the England national cricket team toured New Zealand, which was a part of their Ceylon, Australia and New Zealand tour. NZ lost the first Test but managed to draw the remaining three matches. In that tour, Stewie Dempster and Jackie Mills formed a partnership of 276 runs for the first wicket. This is still the highest partnership for the first wicket from New Zealand against England. World War II put a halt on Test cricket for 7 years.
The first Test match for New Zealand after the war was played against Australia in 1945. Though this match was not considered to be a Test initially, the ICC awarded it a Test status in 1948. This was the only Test Australia played against New Zealand from 1929 to 1972.
In 1949, New Zealand toured England. This time they had a strong team that included players such as Bert Sutcliffe, Martin Donnelly, John R. Reid and Jack Cowie. All four Tests resulted in draws during this tour. Nevertheless, the tour was special for NZ cricket as they didn't lose a single match. They were the second team to achieve this mark, the first team to do so were the Australians led by Don Bradman.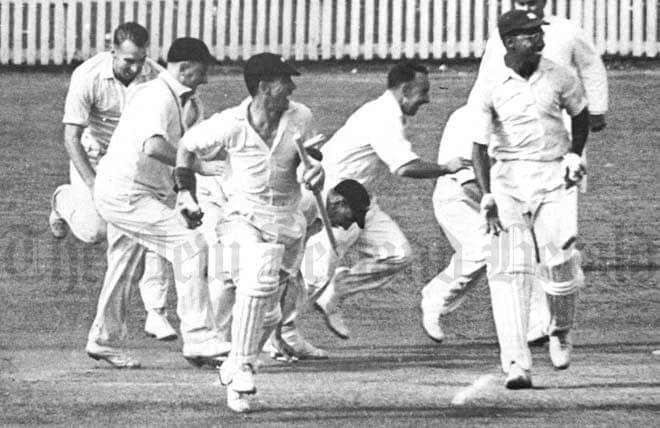 First Test win for New Zealand (source)
Consequently, New Zealand went on to play against the West Indies in 1951 and against India and Pakistan in 1955. The first Test victory for New Zealand came against the West Indies at Eden Park, Auckland in 1956. The New Zealand team consisted of excellent batsmen but lacked a strong pace bowler. In 1961, NZ toured South Africa under the captaincy of John R. Reid. The tour concluded with a 2-2 draw. This tour was remarkable as the first overseas Test match victory was achieved by the NZ cricket team.
In 1973, Richard Hadlee debuted for the NZ team. This changed the face of New Zealand in Test cricket. After the inclusion of Hadlee, the rate at which NZ won Test matches picked up the pace. He presented excellent fast bowling talent and was the solution for NZ's weak bowling attack in the past. Hadlee played 86 Tests, out of which 22 were won by NZ and 28 matches were lost. In the 1980s, the New Zealand team was one of the strongest teams in the international circuit. This team included players such as Martin Crowe, John Wright, Bruce Edgar, Andrew Jones, Ian Smith and John Bracewell.
World Test Champions 2021 (source)
In 2021, Kane Williamson led New Zealand in the inaugural ICC World Test Championship against India at Rose Bowl, Southampton. They played excellent cricket and implemented their strategies to perfection. New Zealand won this match by 8 wickets. Kyle Jamieson was awarded the Player of the Match. They became the first team to win an ICC World Test Championship and are currently placed 1st in the ICC Test Match Team Rankings.
ODI ODI Historyday cricket presented an opportunity for regular cricket for the New Zealand team. The first ODI victory for New Zealand was against Pakistan in 1973 at Lancaster Park, Christchurch. New Zealand won this match by 22 runs. A bowling performance by Dayle Hadlee and the batting brilliancy of Mark Burguess were the highlights of this match.
New Zealand took part in the most infamous match of ODI cricket against Australia. Later, this match was called the "under-arm" match when Greg Chappell, then Australian captain, instructed the bowler to throw an under-arm delivery along the wickets to prevent the NZ batsman from hitting a six off the final bowl. New Zealand holds a unique world record. It was set when the whole team were awarded the Man of the Match in 1996 against the West Indies. This was the only time when a complete team were given this award.
In the 1990s, New Zealand worked on their bowling attack and had excellent bowling alternatives in the form of Chris Cairns, Danny Morrison and Stephen Fleming. Daniel Vettori, regarded as the best spin bowler in the world, made his debut in 1997 and went on to captain the New Zealand squad in 2007.
Champions Trophy 2000 Winners (source)
On 15 October 2000, New Zealand faced India in the final of the Champions Trophy 2000 (then known as KnockOut Trophy). New Zealand won this match by just 4 runs. This was a historic win for New Zealand, as this was the first ODI trophy for the team. Chris Cairns scored a century in this match and turned the table for New Zealand.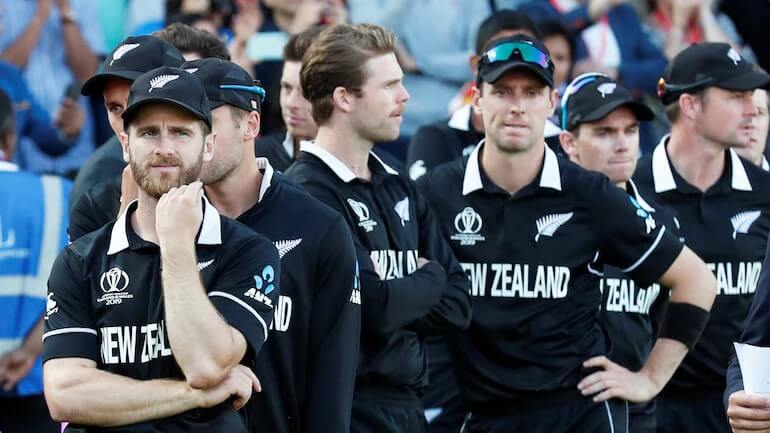 New Zealand at the World Cup 2019 (source)
New Zealand have played 2 world cup finals so far, in 2015 and 2019. In 2015, New Zealand entered the World Cup final against Australia. Australia won this match by 7 wickets. The batting order of New Zealand was heavily dependent on the in-form Brendon McCullum and his failure to score runs in the final resulted in the loss. NZ had another opportunity in the World Cup final, in 2019 against England. They played well throughout the tournament. In the final match against England, the winner was decided based on the boundary count after the Super Over draw. This was a heartbreak for New Zealand.
T20I HIST20I HISTORYand played their first T20I against Australia on 17 February 2005. Australia won this match by 44 runs. Australian squad led by Ricky Ponting completely outplayed New Zealand in this match. Stephen Fleming was the first T20 captain for the Black Caps.
New Zealand have had a poor record in T20 cricket, despite having talented players in their squad. They have played 145 T20I matches until now, out of which they have won 71, lost 62, 8 matches ended with a draw and 3 matches had no results.
The Black Caps have made two appearances in the ICC T20 World Cup semifinals. In 2007, New Zealand lost to Pakistan by 6 wickets and the second semifinal qualification came in 2016 against England. England won this match by 7 wickets. Even though they have had an unfortunate ending to their previous world cup campaigns, they are still counted to be one of the strongest contenders for ICC World Cup tournaments.
Summary<Summaryand have been one of the oldest teams in the game of cricket. This team have gone through many evolving phases and have produced many talented players in international cricket. Bert Sutcliffe, Martin Donnelly, John R. Reid, Jack Cowie and Dayle Hadlee formed the foundation of cricket in New Zealand, while Stephen Fleming, Danielle Vettori, Brendon McCullum and Kane Williamson have shaped modern cricket for the Black Caps. New Zealand currently hold the 1st position in Tests and ODI cricket. Even though they haven't been able to perform to the best of their abilities in the ICC tournament, New Zealand have always shown their presence in international cricket.
Similar articles