09.02.2022,15:02 2907 0
Youngest Test Cricketers in History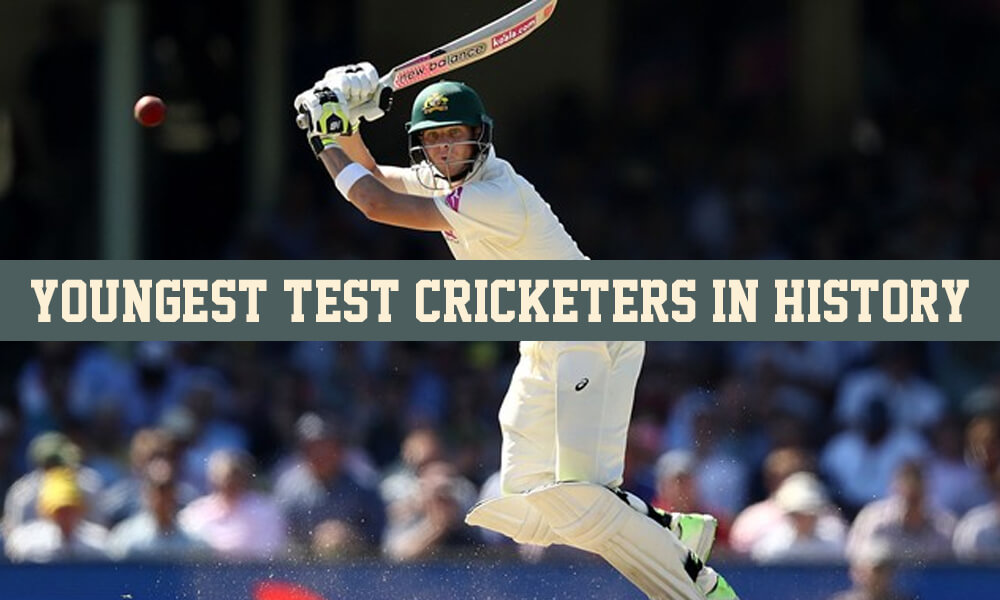 There are many test cricketing nations out there that are all set to through young and fresh talent right at the deep end, believing the ideology that "if they are good enough, they are old enough". There have been many cricket legends who started playing test cricket at a young age. Through this article, you will learn about some cricketers who started playing Test cricket at a very young age.
1. Hasan Raza [Pakistan]
Pakistan's Hasan Raza was only 14 years old when he debuted in Test cricket for Pakistan. He played his first-ever Test in 1996 against Zimbabwe, but his Test career failed to take off properly. Even though he carried the crown of being the top scorer in first-class cricket, Raza played his 7th and last Test in 2005 against England.
2. Sachin Tendulkar [India]
Known as "The Little Master", Sachin Tendulkar is one of the most talented and legendary cricketers of all time, who started his cricketing journey at a young age.
He was a phenomenon who carried all the expectations and hopes of a country right on his shoulders with effortless grace when he made his debut in Test cricket at 16 years of age. In his first 8 test games against England in Old Trafford, he made 4 half-centuries, and since then, he never looked back.
Sachin Tendulkar was also the youngest Test cricketer in history to reach three figures in Test cricket. For 23 years, he entertained people worldwide with his extraordinary talent, and Tendulkar ended his notable career as the most-capped Test player with 200 test caps.
He is also the highest run-scorer in ODIs with 18,426 runs and Test cricket with 15,921 runs. He also holds the record of making more centuries than any other cricketer. He made 49 centuries in ODIs and 51 in Test cricket.
3. Mushtaq Mohammad [Pakistan]
Pakistan's Mushtaq Mohammad is regarded as an outstanding all-rounder who had an excellent record in 1st class and Test cricket. Apart from the others who ranked below Mushtaq, he showed off his talent in Tests at a young age. After gaining victory against West Indies in 1959, he played an indelible mark in India during the 5 Test series in 1960.
Mohammad scored 61 runs during his 4th Test right before he became the youngest player to score a 100 in Test cricket at 17. He made a record that lasted for 40 years. Mushtaq made 9 more centuries in 57 Tests, scored 3643 runs, and had a batting average of 39.17. In first-class cricket, he played for Northamptonshire and performed extremely well.
He scored 31,091 runs along with 72 centuries and had a batting average of 42.07 along with a score of 303 not out. As the skipper of the Northants, he led the team to achieve their 1st ever trophy by winning the Gillette Cup tournament back in 1976. Even though Mushtaq Mohammad was an exceptional batsman, he played the leg spinner who had some excellent variations.
During the Tests, he took 79 wickets and had a bowling average of 29.22. It's around 10 runs lower than his batting average. In first-class cricket, Mushtaq's lead spinner record was great as he took 936 wickets, had 39 five wickets in an innings, and a bowling average of 24.34. Mushtaq Mohammad was a brilliant cricketer across disciplines, and he showed off his talent not just with the bat but also with the ball.
4. Talha Jubair [Bangladesh]
Talha Jubair was the youngest Test player of Bangladesh as he made his debut at 16. He made a brilliant start in Test cricket after bowling Mahela Jayawardene and Marvan Atapattu. But he was also one of those players who found it challenging to cement a long-term position in the Bangladesh cricket team. At the age of 18, Jubair played his final Test match.
5. Nasim-Ul-Ghani [Pakistan]
Making his test debut at the age of 16, Nasim-ul-Ghani was regarded as the youngest Test player of all time. He surely made an excellent debut. His maiden Test debut was as a leg-arm spinner against the West Indies, with big names like Everton Weekes, Rohan Kanhai, Clyde Walcott, and Garfield Sobers. He played 28 times more for Pakistan and placed his name on the "Lord's Honors Board" after scoring a century in 1962 against England.
6. Naseem Shah [Pakistan]
Made his Test debut at the age of 16 with a remarkable first-class record. Shah is a genuine quick bowler who has taken 27 first-class wickets and had a bowling average of 16.66. He made his debut against the all-mighty Australian in October 2019.
7. Enamul Haque Jr [Bangladesh]
Debut at the age of 16 in Test cricket for Bangladesh, Enamul had been in and out of the team for a decade. Haque is an excellent left-arm spinner who found it challenging to translate his impressive first-class record right into the regular success in the game's longest format. He played 15 Test matches for Bangladesh, where he took 44 wickets at a bowling average of 40.61.
8. Aaqib Javed [Pakistan]
Aaqib Javed was Pakistan's exceptional bowler who made his Test debut at 16. This clearly shows that he debuted in first-class cricket when he was just 12 years old. Javed had a successful career as he took over 200 wickets for his country and played an important part during the 1992 World Cup, where Pakistan was crowned as the tournament's champions.
Here is a list of players who made their Test debut at a young age:
| | | | | | |
| --- | --- | --- | --- | --- | --- |
| Player's Name | Born | Country | Age | 1st Match | Against |
| Hasan Raza | 01/03/1982 | Pakistan | 14 years 237 days | 24/10/1996 | Zimbabwe |
| Mushtaq Mohammad | 22/11/1943 | Pakistan | 15 years 124 days | 26/03/1959 | West Indies |
| Aaquib Javed | 05/08/1972 | Pakistan | 16 years 189 days | 10/02/1989 | New Zealand |
| Sachin Tendulkar | 24/04/1973 | India | 16 years 205 days | 15/11/1989 | Pakistan |
| Talha Jubair | 10/12/1985 | Bangladesh | 16 years 223 days | 21/07/2002 | Sri Lanka |
| Nasim-Ul-Ghani | 14/05/1941 | Pakistan | 16 years 248 days | 17/01/1958 | West Indies |
| Naseem Shah | 15/02/2003 | Pakistan | 16 years 279 days | 21/11/2019 | Australia |
| Enamul Haque Jr | 05/12/1986 | Bangladesh | 16 years 320 days | 21/10/2003 | England |
Final Thoughtsp>In this article, you will find the names of some of the most legendary and talented cricketers who made their debut in Test cricket at a very early age.
Similar articles