01.10.2021,15:10 140 0
Jade Dernbach to Start His International Cricket Journey with Italy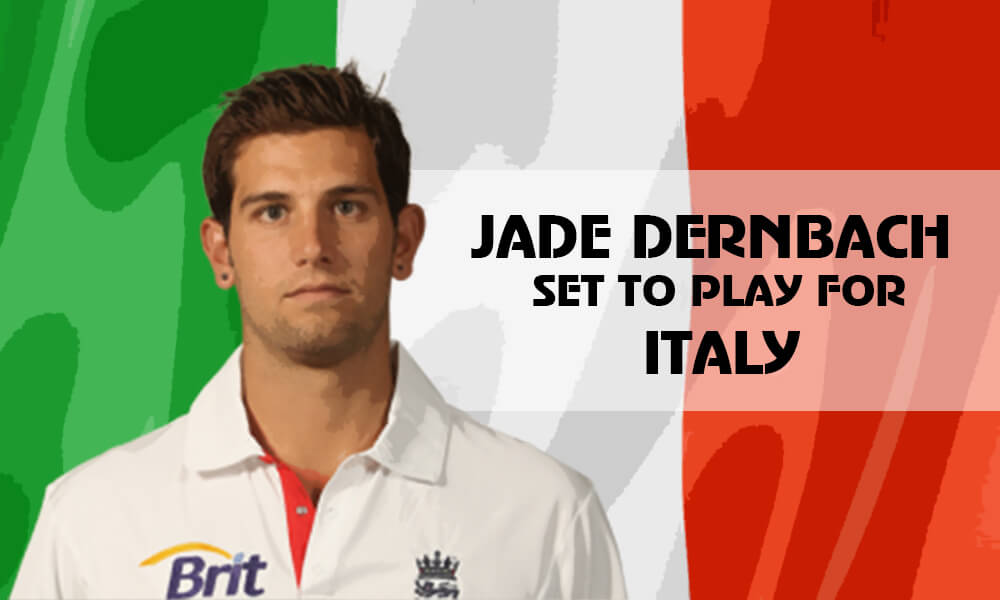 35-year-old Jade Dernbach, who won 58 limited-overs caps for England from 2011 to 2014, has been selected for the ICC Men's T20 World Cup Europe Qualifier.
The opportunities for this talented player in county cricket have been limited in the last few years. Moreover, by the end of this season, he will leave Surrey. However, he will start his international career in Italy. Dernbach qualified through his mother's side.  Moreover, Gareth Berg will be leading the team.
Australian-born Grant Steward, who represented Kent in the T20 Blast, is another inclusion in the team. Moreover, there are also talks around the inclusion of Jamie Grassi, the lightning batter from Leinster. The former England player and teammate of Gareth at Middlesex and Hampshire, Owais Shah, will be the assistant coach.
The qualifier Italy will take part in forms the pathway for the T20 World Cup 2022. The team reached this stage due to their T20I ranking post the sub-qualifier events had been cancelled in the wake of COVID-19. The team will play against Jersey, Denmark, and Germany in Spain from October 15 to October 21, 2021. The top two teams will be advancing to the global qualifiers at the beginning of 2022.
Italy T20 World Cup Squad
Gareth Berg (Head Coach and Captain)
Jade Dernbach
Grant Stewart
Jamie Grassi
Madupa Fernando
Gian-Piero Meade
Dinidu Marage
Darren Low
Baljith Singh
Amir Sharif
Joy Perera
Manpreet Singh
Jaspreet Singh
Nikolai Smith
Jade Dernbach's Career Overview
| | | | | | | | | | | | | | |
| --- | --- | --- | --- | --- | --- | --- | --- | --- | --- | --- | --- | --- | --- |
| | | | | | | | | | | | | | |
| Bowling | | | | | | | | | | | | | |
| Span | Mat | Inns | Overs | Mdns | Runs | Wkts | BBI | Avg | Econ | SR | 4w | 5w |   |
| 2011-2013 (0DI) | 24 | 24 | 205.4 | 6 | 1308 | 31 | Apr-45 | 42.19 | 6.35 | 39.8 | 1 | 0 | |
| 2011-2014 (T20) | 34 | 33 | 117 | 1 | 1020 | 39 | Apr-22 | 26.15 | 8.71 | 18 | 1 | 0 | |
| Batting |   |   |   |   |   |   |   |   |   |   |   |   |   |
| Span | Mat | Inns | NO | Runs | HS | Avg | BF | SR | 100s | 50s | 0s | 4s | 6s |
| 2011-2014 (T20) | 34 | 7 | 2 | 24 | 12 | 4.8 | Jan-00 | 114.28 | 0 | 0 | 1 | 3 | 0 |
| 2011-2013 | 24 | 8 | 1 | 19 | 5 | 2.71 | Feb-00 | 48.71 | 0 | 0 | 1 | 1 | 0 |
| Fielding |   |   |   |   |   |   |   |   |   | | | | |
| Span | Mat | Inns | Dis | Ct | St | Ct Wk | Ct Fi | MD | D/I | | | | |
| 2011-2013 (ODI) | 24 | 24 | 5 | 5 | 0 | 0 | Jan-00 | 2 (2ct 0st) | 0.208 | | | | |
| 2011-2014 (T20) | 34 | 33 | 8 | 8 | 0 | 0 | Jan-00 | 2 (2ct 0st) | 0.242 | | | | |
| Allrounder |   |   |   |   |   |   |   |   |   |   |   |   |   |
| Span | Mat | Runs | HS | Bat Avg | 100s | Wkts | BBI | Bowl Avg | 5w | Ct | St | Avg Diff |   |
| 2011-2013 (ODI) | 24 | 19 | 5 | 2.71 | 0 | 31 | Apr-45 | 42.19 | 0 | 5 | 0 | -39.47 | |
| 2011-2014 | 34 | 24 | 12 | 4.8 | 0 | 39 | Apr-22 | 26.15 | 0 | 8 | 0 | -21.35 | |
Similar articles