Highest Run Makers of IPL 2021 Before the Covid Break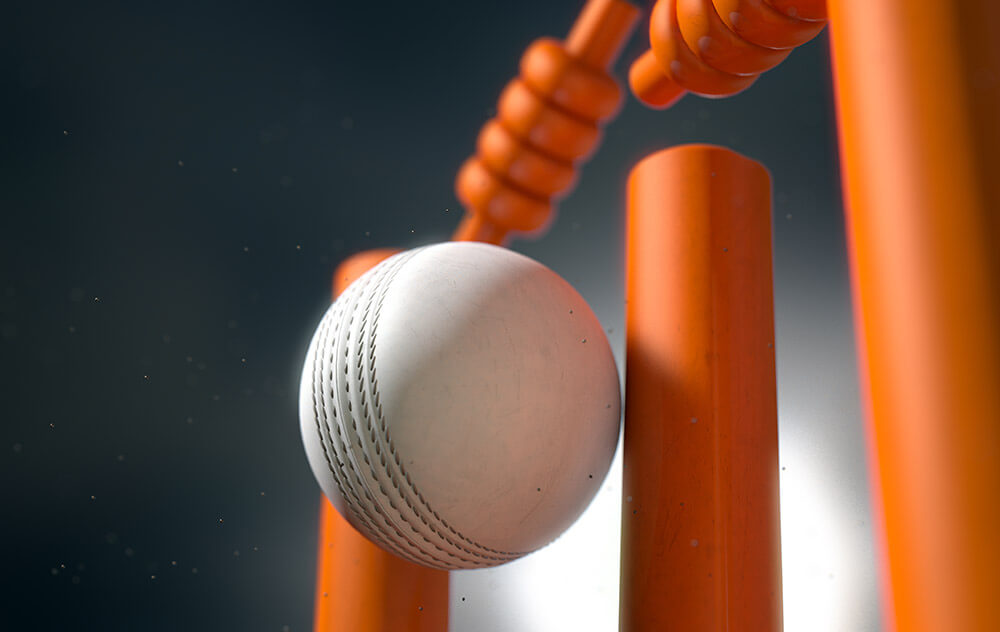 13.05.2021,13:05 82 0
A spate of Covid-19 cases within the biosecure bubble at the IPL 2021 caused the tournament to be suspended. At the time the competition was halted, there was fierce competition for the Orange Cap building up among the leading batsmen. In this article, we look at the top run-makers of the suspended IPL.
Top 5 Run-Makers of IPL 2021
1. Shikhar Dhawan: 380 Runs
The race for the Orange Cap is led by Dhawan who has scored 380 runs at 54.28 from 8 matches, with a strike rate of 134.27. From the very first match he played, Dhawan made it obvious that he had come prepared with a strategy. In his first three games, Dhawan batted his way to two Man of the Match awards. In DC's first match against CSK, Dhawan smashed 85 off 54 balls at a strike rate of 157.41. After a below par showing in the 2nd game against RR, Dhawan was back to his destructive best when DC played PBKS in the third game. This time, he got 92 off 49 balls in a successful run chase of 199. Two sixes and 13 fours embellished the left hander's knock that was scored at a strike rate of 187.76. Dhawan adopted a supporting role in the games that followed, playing second fiddle to Prithvi Shaw who struck a vein of form. In his next four knocks, he got 45 off 42 balls, 28 off 26, 6 off 7 and 46 off 47. But in his final knock before the curtains came down prematurely on the IPL 2021 season, Dhawan hit a blistering 69 from 47 balls against PBKS, in a match-winning innings that saw him retain his hold on the Orange Cap.
2. KL Rahul: 331 Runs
Rahul began the season explosively with a 50-ball 91 against RR to guide his side to a match-winning total of 221 for 6. He was forced to play the anchor role in the next game against CSK as PBKS lost early wickets. For some unknown reason, Rahul scored only in every other game. An innings of 61 off 51 balls in the third match was followed by a knock of 4 runs off 6 balls in the 4th, followed in turn by another solid innings of 60 off 52 balls in the 5th. Rahul scored just 19 off 20 balls in the sixth game before another explosive knock of 91 from 57 balls in the 7th. His team's overdependence on his batting appeared to dictate Rahul's approach, with PBKS winning on three of the four occasions he managed to score more than 50. In 7 games of the truncated season, Rahul scored 331 runs at 66.20, with a strike rate of 136.21. With an appendicitis operation behind him, the temporary break will give the Punjab skipper enough time to regroup before resuming his quest of the Orange Cap.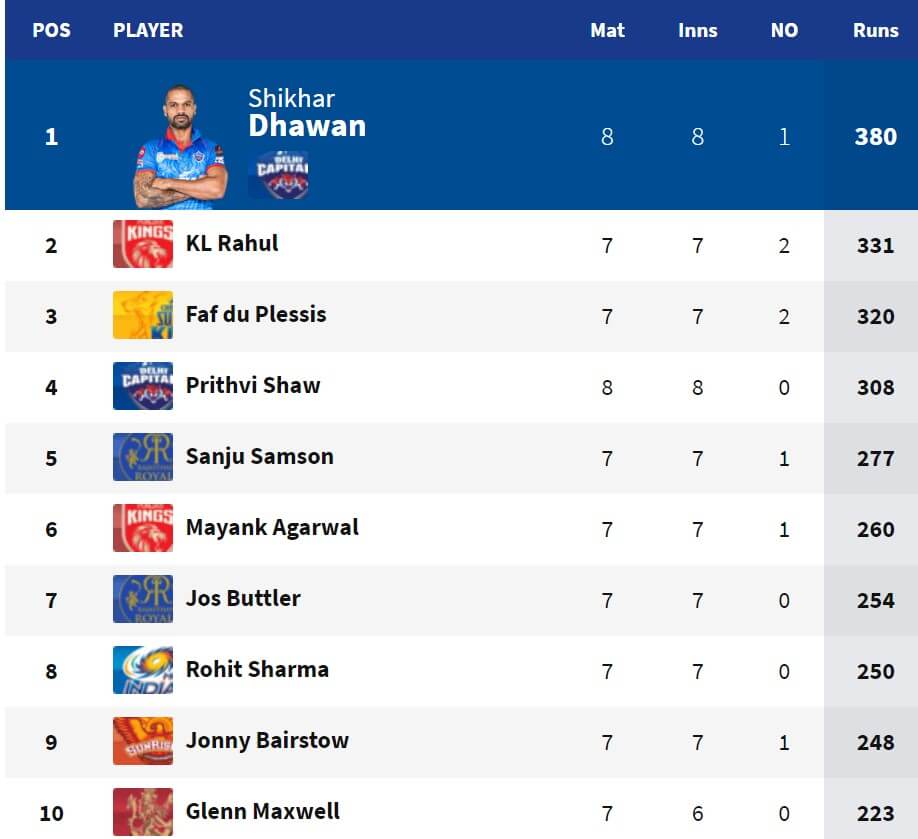 3. Faf du Plessis: 320 Runs
Du Plessis had a bad start to the season – out for zero in three balls in CSK's first game against DC. But when PBKS collapsed for 106, batting first in CSK's next match, Du Plessis had the ideal setting to work himself back into some form. He went on to make 36 off 33 balls to help his side to victory. That was the cue to rediscovering his usual aggressive style as the former South Africa player scored 33 off 17 balls in his next innings. Then came the innings that he needed to put all his future rivals on guard — a 60-ball innings of 91 against KKR. Du Plessis then rattled off half-centuries in his next three games to completely smother the rival bowling attacks that showed up. A 41-ball 50 was followed by two identical innings of 56 off 38 balls, underscoring his value to a CSK squad keen to put the failures of the previous season behind them. In seven matches, Du Plessis scored 320 runs at 64.00, with a strike rate of 145.45, making him a front-runner for the Orange Cap before fate intervened to cause a temporary halt to the season.
4. Prithvi Shaw: 300 Runs
After a disastrous tour of Australia, Prithvi Shaw made changes to his technique, helped by Pravin Amre, his coach. He saw immediate results when playing for Mumbai in the Vijay Hazare Trophy Tournament he made 827 runs at 164.50 with four tons and a fifty in 8 matches. That was the perfect preparation for the IPL. Shaw scored a 38-ball 72 in his first match against CSK. After five 30-plus innings in eight games and several opening stands with Shikhar Dhawan, Shaw finds himself fourth on the list of contenders for the Orange Cap. In his latest game against KKR, he scored six fours in an over from Shivam Mavi to become only the second player after Ajinkya Rahane to achieve the feat in the IPL. After eight games this season, Shaw has 300 runs to his name at 38.50, with a strike rate of 166.48. 
5. Sanju Samson: 277 Runs
Though Sanju Samson has played some match-winning innings in past IPLs, the bane of his batting has been a lack of consistency. Samson appeared determined to amend that image in the 2021 season when he smashed 119 from 63 balls and came close to pulling off a miraculous win while chasing an improbable target of 222 against PBKS. Samson was named Man of the Match after his side fell five runs short of the target. That innings was followed by a characteristic slump as the newly crowned RR skipper managed to score only 5 runs in his next two innings. He once again copped criticism for his inconsistency and he appeared to take the brickbats to heart as he reeled off scores of 21 off 18 balls, 42 not out from 41, 42 off 47 and 48 off 33 in his next four innings. Given his undoubted talent, you would expect Samson to convert such starts into big scores. Though he has failed to comply with that expectation, Samson has managed to score 277 runs in 7 games at an average of 46.16 with a strike rate of 145.78. Though hamstrung by a spate of injuries to key players in his side, the batsman has relied on his confidence and immense talent to remain in the fray for the Orange Cap.
Similar news