12.11.2021,16:11 759 0
IPL 2022: CVC Capitals Eye Shastri & Co. for Ahmedabad IPL Team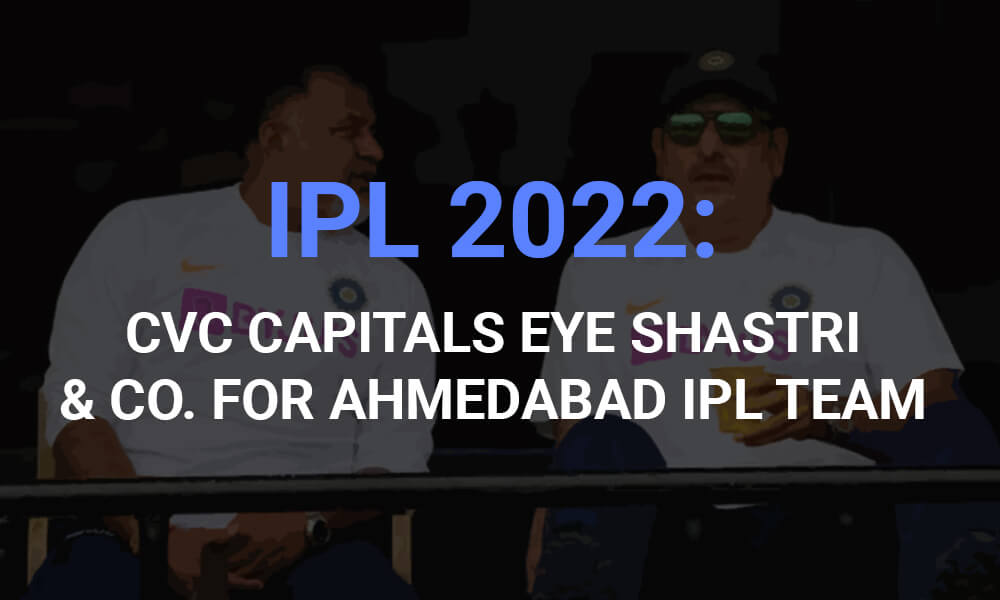 Ravi Shastri and members of his support staff are likely to be signed by the Indian Premier League (IPL)'s new Ahmedabad franchise. Fielding coach R Sridhar and bowling coach Bharat Arun are especially likely to benefit.
Shastri Reported to Have Been Approached in Dubai
The promoters of the new IPL franchise are reported to have approached Shastri and his coaching staff during the World Cup in Dubai. Shastri — who was busy with the Indian team's campaign — is reported to have asked for time to decide whether to accept the offer.
Insiders Say Shastri Will Accept the Offerp>Insiders with knowledge in the matter have revealed to the media that Shastri is agreeable to the idea of coaching an IPL franchise though such a contract may come in the way of the pursuit of his first love, commentary. Shastri had done commentary for more than 20 years before he took up the coaching job with team India in 2014. Commentary Stint Likelyp>Given his contract with an IPL franchise, the Board of Control for Cricket in India (BCCI) may be prevented from offering Shastri a direct contract to do commentary, thanks to the conflict-of-interest rules in place. However, Shastri could choose to sign a contract directly with a broadcaster, following in the footsteps of VVS Laxman. Laxman continues to do commentary even as he is associated with an IPL franchise — Sunrisers Hyderabad — as a mentor. Some of the world's top broadcasters, including Sony Sports and Star Sports, have reportedly already made offers to Shastri. Promoters Keen to Close Deal Soonp>CVC Capitals, the Ahmedabad IPL franchise's promoters, are reportedly keen to get Shastri on board as soon as possible. With franchises in the process of deciding which players to retain, CVC are keen to have knowledgeable professionals on board to get involved in the decision-making process. The promoters with their vast global experience in running leagues and franchises are also keen to appoint an administrative manager and a CEO for the Ahmedabad Franchise as soon as possible.

CVC Capital's UK and India representatives have reportedly remained non-committal when asked by media about their alleged approach to Ravi Shastri. Following their successful bid of INR 5600 crore in October for the Ahmedabad franchise, CVC have come under the scanner for their reported investments in a UK-based gambling firm. However, the BCCI is reported to have given the all-clear. Media reports say that CVC along with RPSG — the Sanjiv Goenka-owned promoters of the Lucknow franchise — have already signed franchise agreements with the BCCI.

Dravid Named Shastri's Successor Is Coach of Team Indiap>Shastri began his coaching stint with team India in 2014 and — barring a one-year break — has continually been on the job. His current contract will expire at the end of the T20 World Cup 2021. Rahul Dravid has already been named by the BCCI as Shastri's successor.
Similar news