03.08.2021,14:08 8487 0
History of Cricket in India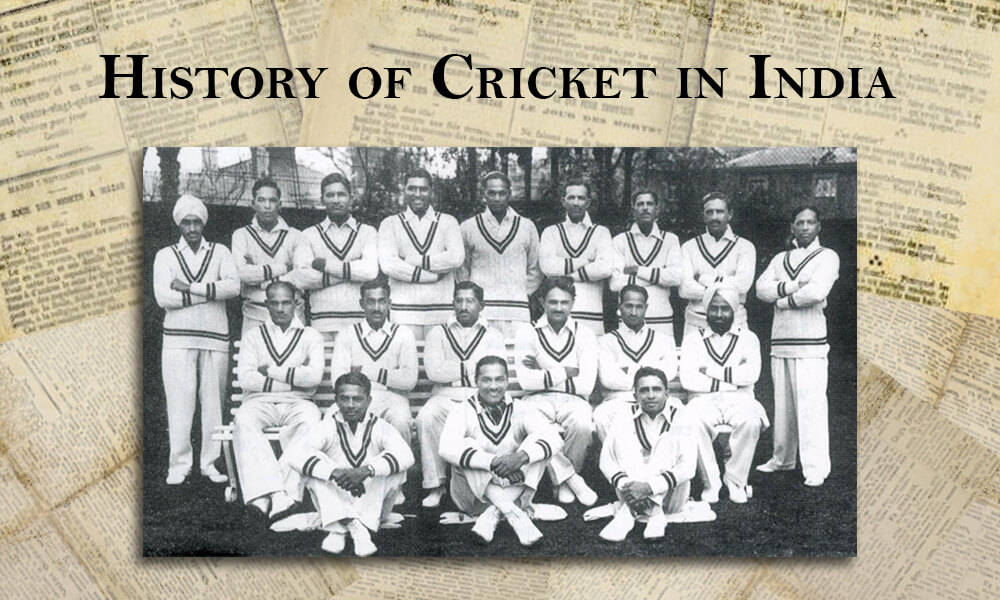 When a country with a population of 1.5 billion stops to watch the World Cup final, one can only imagine the popularity of cricket and how it has grown its roots across India. It is like football in Argentina and basketball in the USA. Over the years, the Indian cricket team have achieved great heights by winning world cups across different formats, best team rankings and best individual stats. India has channelised the popularity to structure the hierarchy of cricket to a grassroots level. Let's have a look at the history of cricket in India across all formats.
Contents
History
p>The history takes us back to 1721 when British sailors played cricket off the coast of Kutch, Gujrat. The first cricket match took place between the British army and British settlers in 1751. In 1792, the second oldest Cricket Club in the world was established in Calcutta. Calcutta Cricket Club organised a game between its team and Old Etonians which saw Old Etonian Robert Vansittart registering the 'First Recorded Century' on Indian soil.

In 1848 Parsis became the first Indian civilian community to catch cricket fever by setting up Oriental Cricket Club in Mumbai. Soon it was followed by the Hindus and other communities. The Parsis started touring England in 1886. After a flop show in 1886, the team exceeded its expectations in the 1888 tour. The 31-match tour ended up with Parsis winning 8, losing 11 and drawing 12 matches.

In 1911, an 'All India' team led by Maharaja of Patiala toured England. In 1928, the Board of Control for Cricket in India (BCCI) was established. This was followed by setting up an organised structure across India. The BCCI now organises Ranji Trophy, Irani Cup and Duleep Trophy (First-class cricket), Vijay Hazare Trophy and Deodhar Trophy (List A cricket) and Syed Mushtaq Ali Trophy (T20).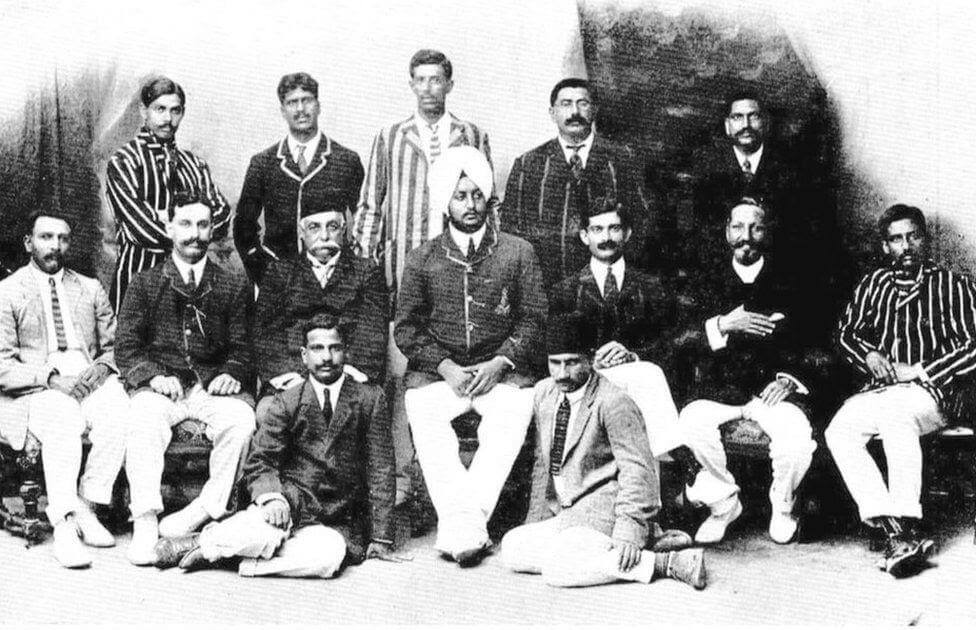 First All India Team that travelled to England in 1911 (source)
HistorHistory of Test Cricketfter the establishment of the BCCI, India became a Test-playing nation under the captaincy of Col. C.K. Nayudu in 1932. India lost the Test by 187 runs against mighty England. 20 years later, India registered their first-ever Test win. They won the final Test of a 5-match Test series against England by an innings and 8 runs in Chennai. In the same year, India beat their new neighbours Pakistan 2-1 to win their first Test series. In 1967-1968 India accomplished their first away Test series win by beating New Zealand 3-1 in a 4-match Test series. Off-break bowler Erapalli Prasanna took 24 wickets in this tour at an average of 18.79.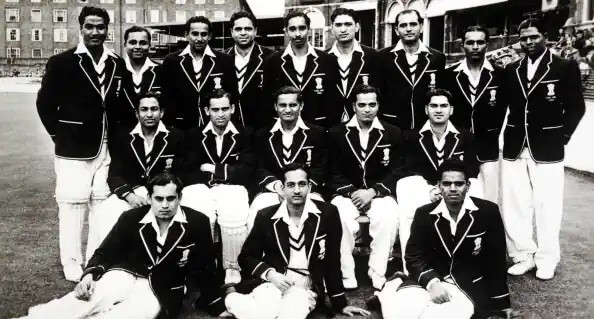 Indian Test team against England in 1952 (sourse)
From 1970-71 to 1973, India won 3 Test series including 1 against West Indies and back-to-back series against England. In Port of Spain, the team registered their highest successful run chase by scoring 406 for the loss of 4 wickets in the fourth innings. Ajit Wadekar led India to win their first Test series in India in the 1971 tour. With Test cricket starting to bloom, India failed to strengthen their weight all over the world. They couldn't win a single series out of ten between 1982 to 1985-86. But the tables turned from 1992-93 when a new generation of players went up winning 7 out of the 10 series and losing only one.
One of the most memorable victories for India came in 2001 against Australia. After facing a follow-on in the first innings, India put up a mighty total of 657 for 7 in the second innings with the help of VVS Laxman's 281 runs and Rahul Dravid's 190 runs. They beat Australia by 171 runs. Eventually, India went up, winning the series 2-1.
Over the years, India achieved plenty in Test cricket. They held the Test Mace (Rank one in Test cricket) for five consecutive years. After losing the first Test in Australia in 2020-21, India pulled up something out of the blue to register a 2-1 series victory. They became the first Test team to win at the Gabba – an Australian fortress for more than 30 years. India qualified for the first Test Championship Final held by ICC but lost to New Zealand in the end. So far, India have played 551 Tests. They have won 152, lost 170, tied 1 and drew on 170 occasions.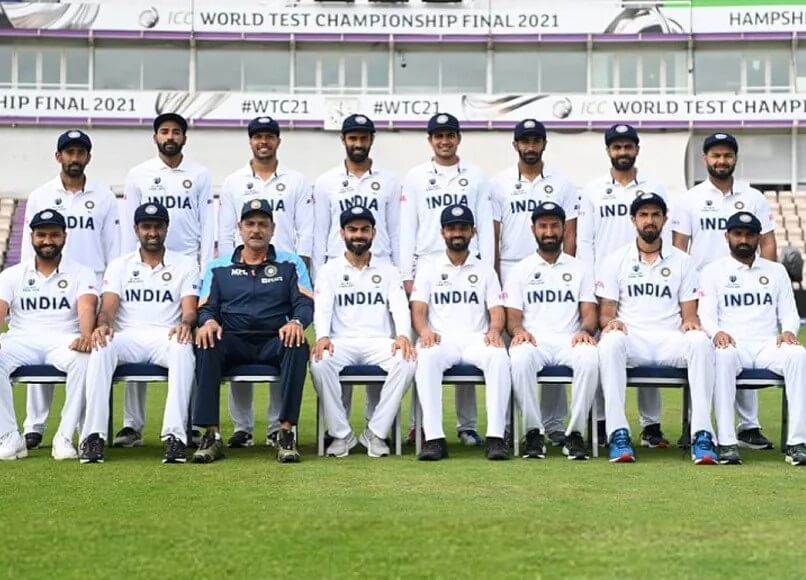 Indian Test Squad for Test Championship Final (sourse)
ODI History<ODI Historyer playing their first Test, India faced England in their first-ever One Day International in Leeds. Batting first India set a target of 266 runs which England chased for the loss of 6 wickets. India registered their first ODI win in the first ICC World Cup against East Africa. The team led by Srinivas Venkataraghavan chased the target of 121 runs set by East Africa unbeaten.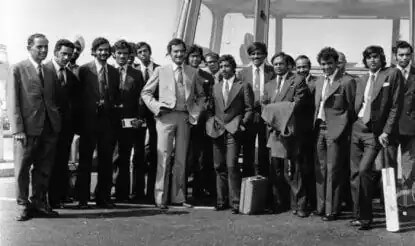 First ODI team of India (sourse)
On 20 December 1981, India registered their first ODI win on home soil by beating England in Jalandhar with six wickets in hand. India also registered their first ODI series win by beating England in the 3rd and final ODI of the series.
The entire nation went berserk in 1983 when India won the ICC World Cup. India beat the two times World Cup champion West Indies in the final to become the second team to win the World Cup. Batting first, India scored 183 runs in their first Innings. Indian bowlers put up an extraordinary show to restrict the mighty Caribbean side to 140. Mohinder Amarnath took 3 for 12 to claim the man of the match award in the final. They went on to win Benson and Hedges World Championship of Cricket next year by beating Pakistan in the final with 8 wickets.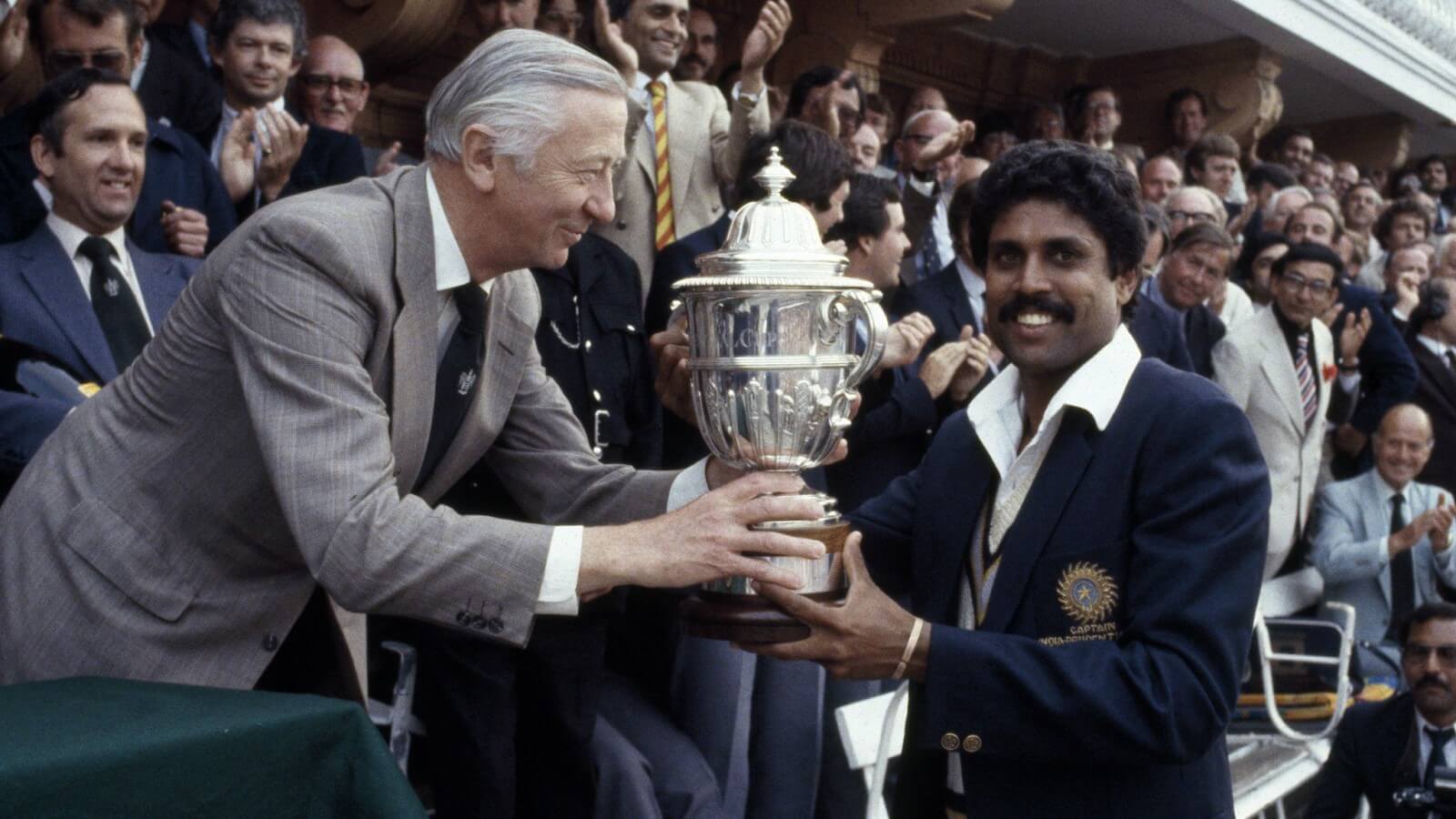 Indian Captain Kapil Dev lifting the World Cup 1983 (sourse)
From 1985 to 2007, India had many ups and downs in ODIs. Chetan Sharma registered India's first hat trick in the World Cup 1987 against New Zealand. In 1998, Sachin Tendulkar registered a record for scoring the most runs in a calendar year. He scored 1894 runs in 33 innings at an average of 65.31 with the help of 9 hundreds and 7 half-centuries – a record still unbeaten. They qualified for the 2003 World Cup final followed by an early exit in the group stage of the 2007 World Cup.
The Indian team led by MS Dhoni repeated the glory of 1983 in the 2011 World Cup. India beat neighbours Sri Lanka by 6 wickets to claim their second World Cup. India also won their second ICC Champions Trophy in 2013. They survived a close call in the final beating hosts England by 5 runs. Indian Legend Sachin Tendulkar scored his 49th ODI hundred on March 16, 2012, to become the first and only player to score 100 international centuries. In November 2013, Rohit Sharma made a world record for the most runs in an innings by scoring 264 off 173 balls against Sri Lanka.
India qualified for the semifinals in both 2015 and 2019 ICC World Cups but lost to Australia and New Zealand respectively. They are now gearing up to host the 2023 ICC World Cup campaign.
In 995 ODIs, India have 518 wins, 427 losses and 9 ties.
T20I HistoryT20I Historyet world changing its formats over the years, India finally took T20Is mode on December 1, 2006, against South Africa in Johannesburg. They chased the target of 127 runs set by the hosts for a loss of 4 wickets to register their first win in the new format. This was the only T20Is game they played before the first T20I World Cup organised by the ICC in 2007. MS Dhoni led a completely new side. They beat their archrivals Pakistan in a bowl out after the game ended up in a tie. India suffered their first T20Is loss against New Zealand. New Zealand beat India by 10 runs in the 13th game of the T20I World Cup. But this didn't stop India's run in the World Cup. The team qualified for the finals and beat Pakistan by 5 runs to win the inaugural T20I World Cup.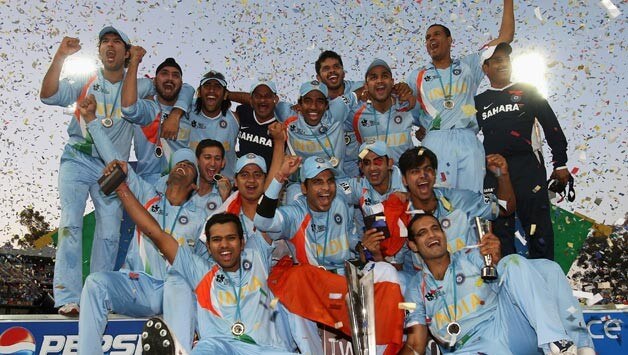 ICC WT20 2007 Winning Indian Team (sourse)
Seeing the emergence of the T20 format, the BCCI founded the Indian Premier League – a professional T20 Cricket League with 8 cities from India competing by picking players in the auctions. The league is now in its 14th successful season. Mumbai-based franchise Mumbai Indians is the most successful IPL team with 5 IPL titles.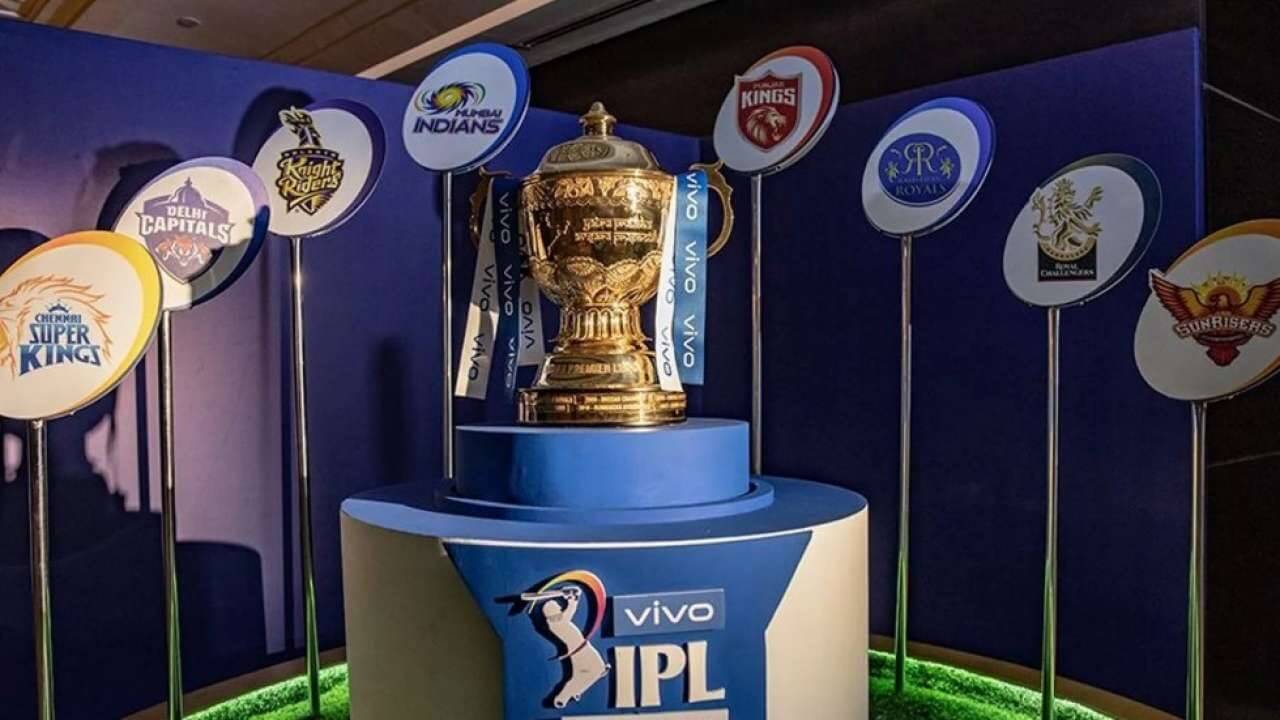 IPL Trophy (sourse)
Soon after the start of the IPL, many grassroots-level Indian players got a chance to represent India including Jaspreet Bumrah, Hardik Pandya, Krunal Pandya and Suryakumar Yadav.
On February 1, 2009, India registered their lowest T20I total of 74 runs against Australia. With the exposure of T20Is increasing, India juggled to put a strong performance in T20Is. They qualified for the 2014 World Cup final but lost to Sri Lanka by 6 wickets. The current progress of India in T20Is is mixed. Though the Indian team players have set individual records, the team haven't won any ICC trophy after 2007. Indian T20I skipper Virat Kohli holds the record for the most runs. He has 3159 runs in 84 innings at an average of 52.65. Rohit Sharma, on the other hand, has 4 centuries – the most by any T20I player. Yuvraj Singh holds the record for hitting 6 sixes in an over and the fastest fifty (in 12 balls). Deepak Chahar has the world's best bowling figures with 6 wickets for 7 runs.
India is trying to channelise these individual records into winning big tournaments. The 2021 T20I World Cup is close by and it will be interesting to see what is on the plate for India.
In 145 T20Is, India have 89 wins, 49 losses and 3 ties (won all 3).
Summary
89 y
Summary
g their debut on the field of cricket, India have achieved a lot by winning trophies, setting up individual and team records. They are currently ranked 2nd in  Test and T20Is formats, whereas they are 4th in the ODI format. The grassroots-level structure of cricket in India is so strong and successful that the BCCI played 2 teams at a time – one against Sri Lanka and one against England. Looking at the progress, it seems there is only one way and that is the way right onto the top for the Indian cricket team.