16.11.2021,16:11 679 0
Black Caps Keeper Conway out with Broken Hand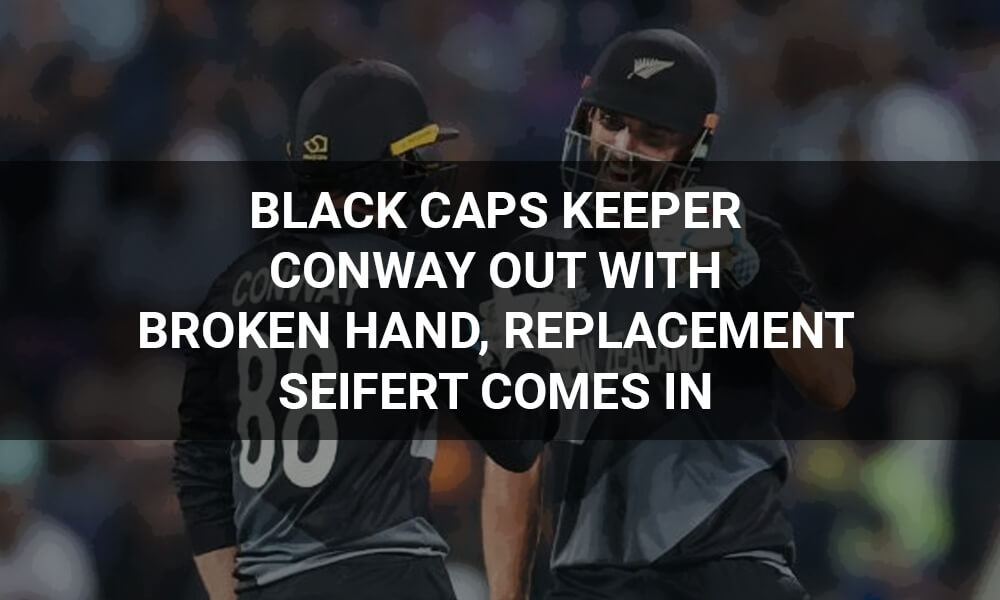 New Zealand's second-choice wicket-keeper Tim Seifert will be replacing star man Devon Conway for the final of the ICC Men's T20 World Cup 2021 after the latter injured his hand when he frustratedly punched his bat upon being dismissed in his team's semifinal clash against England on Wednesday.
Conway, 30, was instrumental in New Zealand's pivotal knockout victory against their recently-made nemesis. It was a fixture which most people in the cricketing world called a grudge match after the two teams faced off in the final of the 2019 ODI World Cup, leading to what the media dubbed a controversial English victory based on a ridiculous rule.
Scoring 46 off 38 in that match, Conway helped fellow batter Daryl Mitchell create a solid partnership for the Kiwis to build on after his team lost two early wickets.
The left-handed keeper-batter jumped to prominence in recent years after stepping up his game by some order of magnitude, to the order of averaging over 50 in all international formats, albeit with only 3 Tests and ODIs under his belt.
Speaking about his injury, New Zealand coach Gary Stead said that although punching his bat with such force was certainly not the brightest thing for Conway to do, the outcome of the punch was certainly worse than the action deserved.
The veteran also added that Conway was in pieces over his self-inflicted omission from the team, but saw the silver lining of Seifert getting a chance to shine in the former's stead.
Averaging 50+ in T20Is, Conway will certainly be missed by the Black Caps if Seifert fails to go big, as the latter's average is less than half of that.
Additionally, Seifert has not played since the Kiwis faced off against Pakistan earlier in the tournament, which ended up being their only defeat in the competition until now.
Another problem for captain Kane Williamson will be reorganising the batting order, as Seifert usually comes in as a finisher rather than the potent middle-order anchor that was Conway. It's not just a captaincy problem either, as Williamson's own underperformance will have to change in order to fill the skill void left by Conway.
This is New Zealand's 3rd limited overs world cup final, and as it is, the team will be haunted by the ghosts of their past. Apart from the aforementioned defeat against England in 2019, the Kiwis also lost the 2015 ODI World Cup final to their opponents for the next match, Australia.
It remains to be seen whether Stead and Williamson's trust in Seifert is well-placed, although they don't really have a choice as the closest thing to a full-fledged batter in the Kiwi reserves is all-rounder Mark Chapman.
For more updates on all things cricket, pull up to cric-life.com.
Similar articles