19.11.2021,16:11 72 0
Virat Kohli's Role as Batter Will Remain the Same: Rohit Sharma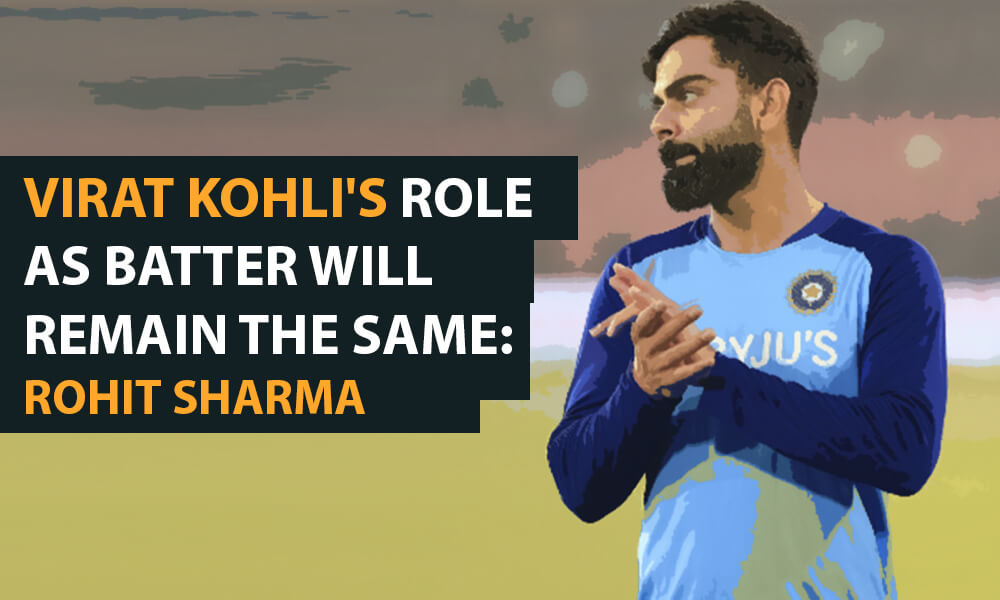 The new T20 cricket skipper of India, Rohit Sharma, says that there will not be any change in the role played by Virat Kohli in the batting lineup of India in this new set-up. In fact, he is sure that his predecessor will continue giving the stellar performances that he always does.
Kohli has resigned from his role as the captain of the T20 team after the T20 Cricket World Cup. From the opening T20 International match on Wednesday against New Zealand, Team India is all set to welcome its new full-time skipper. As the team gears up for the World Cup of the shortest format of cricket in 2022, let's see what Rohit has to say about Kohli's role in the team.
"His Role in This Team Remains the Same", Rohit Sharma
Rohit was recently asked about his perception of the role of the former captain in the team. He was precise and clear in his answer, and he stated that whatever Kohli had been doing in the team, the role of the cricketer would remain unchanged going forward.
Rohit added that
Kohli
was a crucial member of the team who managed to create an impact whenever he was on the field. He is an important part of the team from that perspective, and the roles are bound to be different when each is played.
As such, the roles of every player change according to the conditions of the match. All the players, along with Kohli, are completely aware of and okay with this fact, according to the new captain. He further explained that the role of the players batting first was different from the role of the players going second. Depending on the games being played, the roles will keep on changing and no one will have a problem with that.
Rohit also believes that the kind of experience that comes into the team with the presence of Kohli will only make it stronger and more impactful. He outlined that he was sure that when Virat joined the team, it would only make the team stronger because of the kind of batter he was. It is going to add up to the squad in a major way.
Virat Kohli – The Run Machine in T20 Cricket
At cric-life.com, we feel Rohit is not at all off the mark when speaking of the contributions of Kohli to the team. In fact, going by the previous records, he has pretty much been the run machine that has helped India get out of several tough spots.
Let's take a brief look at the top achievements of former skipper Virat Kohli in T20 cricket:
1st: Most runs scored in a career (3227)
7th: Most runs scored in one calendar year (641)
15th: Most runs scored in one innings as a batsman (94*)
23rd: Most runs scored in one match as the losing side (89*)
4th: Most runs scored on one ground (472)
16th: Most runs scored in one innings by a skipper (94*)
Similar articles