23.11.2021,16:11 778 0
Hayden Stuck Between Pakistan and Australia in Semi Clash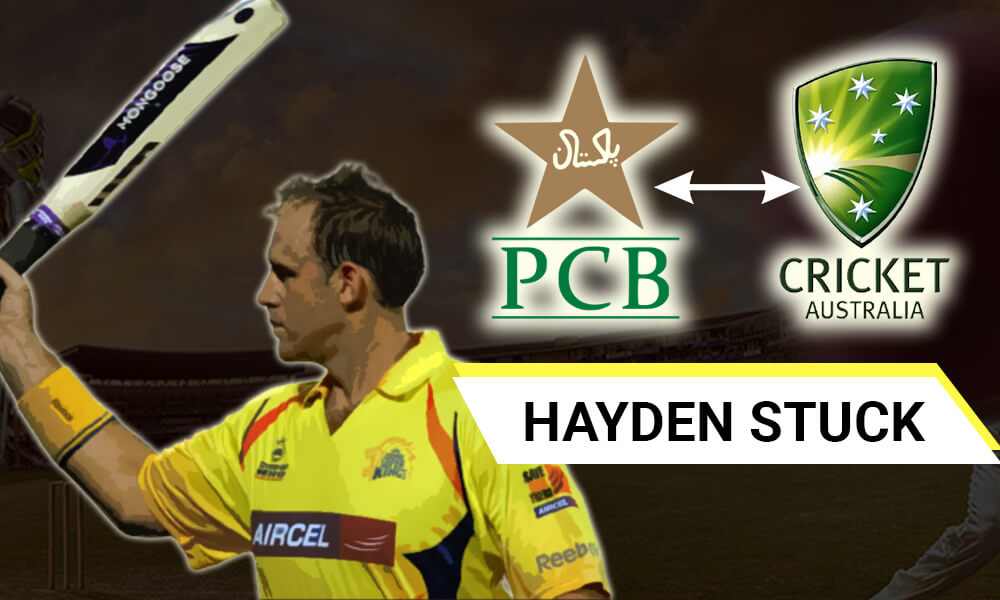 In the T20 World Cup semifinal clash between Pakistan and Australia, there was at least one person who was torn 50-50. Two-time ODI world cup-winning Australian legend and currently Pakistan's batting consultant Matthew Hayden.
As much as he loves his country, the 50-year-old stalwart of the game had left no stone unturned in preparing Pakistan for the important match.
Speaking to the media the night before the match, Hayden said that it would feel odd to go toe to toe against his nation's dreams in such a crucial fixture, naming it a fight between his heart and his mind.
"It's a challenge of the heart and the head," he said. "I have been part of Australian cricket for so long and obviously there is the strong emotional connect. But in a very short time, I have been able to establish a connect with this Pakistan team, their players, administrators, and support-staff," said Matthew Hayden.
He explained that being a part of cricket in Australia for so long had connected him deeply with the organisation, but that he had also established a strong relationship with Pakistani cricket in the relatively short time that he had been assisting the team. Hayden added that the bond had extended past just the players and existed with the staff and administrative body as well.
The former holder of the record for highest-ever individual Test score added that he greatly enjoyed being a part of PCB and that the spiritual aspect of the Pakistani game had had a great effect on the team as a whole.
Hayden will have plenty of peer pressure from an old mate, as former Aussie batter Justin Langer — a long-term partner of Hayden's back in the day and one of his closest friends — is currently the head coach of Australia.
The Pakistani coach acknowledged Langer's presence and went on to say that both of them were well aware as to the limitations of their roles and that it was those on the field that would ultimately decide the result of the match.
Hayden's connection with Pakistan goes deeper than that, however. The coach also mentioned the late Dean Jones, saying that the latter had contributed greatly to cricket in Pakistan while guiding teams in the Pakistan Super League.
He added that he remembered Jones telling him how passionate he was about Pakistani cricket and lauded the deceased cricketer as being both an integral part of the current generation of players in Pakistan and a far-reaching influence for those to come.
Never one to overlook giving credit where it's due, Hayden then expressed his gratitude to Cricket Australia for greenlighting a series in Pakistan in 2022.
Hayden spoke of how he rued not having been able to come to Pakistan during his days as a player, and also praised Cricket Australia for organising the aforementioned series.
Hayden further added that apart from India, there was no country in the cricketing world where people were as passionate about cricket as they were in Pakistan and that such fans deserved to witness top-flight cricket first-hand.
After crashing out of the T20 World Cup in the semifinal, Pakistan are all set for 3 T20s and 2 Tests against Bangladesh starting November 19th.
For more news from the cricketing elite, stay with cric-life.com.
Similar articles