26.01.2022,15:01 12872 0
Batsmen with Most Test Runs in a Calendar Year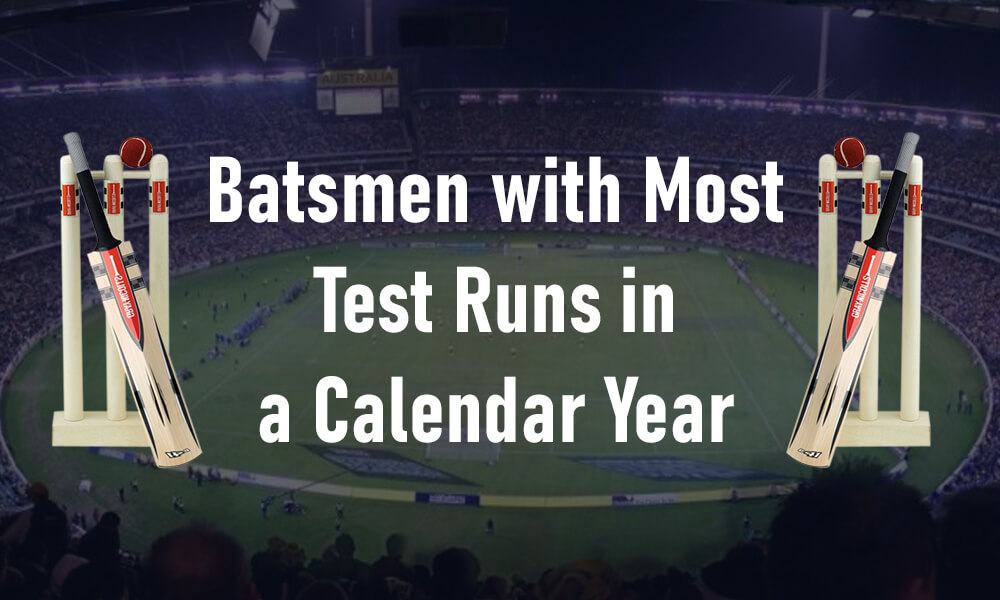 In its glorious and long history, Test cricket has shown us some outstanding performances. This is the most challenging format of the game that has made legends out of many players, depending on how they performed in the longest format of cricket.


Batsmen who have done well in Tests are highly rated because it is not easy to consistently perform when the challenge continues for days. And here are the names of the skilled cricketers who have faced all those hurdles and challenges like a pro!
6. Sachin Tendulkar (India): 1562 runs in 2010
Sachin Tendulkar, the Indian batting maestro, has been one of the finest players to have ever graced the pitch. In a career that spanned 24 years, several records have come his way to make him one of the greatest batsmen of all time. From the highest Test runs scored in a career (15,920) to the highest number of Test hundreds (51), Sachin has played a major role in making cricket a 'religion' in India.
From the Caribbean to Australia, he conquered the world during his cricketing days, and made a place for himself in cricket history. During one such phase in his illustrious career, Sachin became the most accomplished Test scorer in one calendar year.


Back in 2010, he was at his best as he scored a whopping 1,562 runs in one calendar year. Sachin had played fourteen Tests that year and gathered runs at an average of more than 78. Also, it included five half-centuries and seven hundred. Though he scored most of these runs in the sub-continent, there was one unbeaten knockout performance of 111 runs against South Africa that was outstanding to witness.
5. Michael Clarke (Australia): 1595 Runs in 2012
Apart from being a strong leader, Michael Clarke was a fiery batsman who was unstoppable once he set his foothold on that pitch. His batting prowess is amply validated by the fact that his Test average is more than 49. However, the year 2012 was the best one for Clarke as he scored at a massive rate to earn major success in Test cricket.
He scored 1,595 runs in 2012, with an average of more than 106, to come up as the best performance of Australia in one calendar year. Three half-centuries and five major tons made him look almost invincible during this phase of the Test career.


4. Graeme Smith (South Africa): 1656 Runs in 2008
Graeme Smith was not just one of the finest skippers to have ever led South Africa on that pitch, he was also a remarkable batsman with excellent technique and skills. On a good day, this Protea opener was fierce and Smith showed this aspect of his skills on several occasions in the game.
Now, 2008 was a particularly special year in the Test career of Smith. His batting expertise reached new and unprecedented heights during this time. A score of 1,656 runs in fifteen Tests in one calendar year took Smith to the next level of greatness.
3. Joe Root (England): 1708 Runs in 2021
This is the most recent success story among all the names on this list. Going by the progress of Joe Root, the cricketing community was already speculating that 2021 can be the year when Joe Root finally smashes the record of Graeme Smith. Well, he managed to do that, and stopped only a little short of breaking the record set by Viv Richards.
The English Test captain scored 1,708 runs in 2021, with an average of 61. His glorious run this year also included six centuries and four half-centuries.


2. Viv Richards (West Indies): 1710 Runs in 1976
Viv Richards was the actual master blaster who had taken the West Indies team to the heights of greatness in the seventies and eighties. In fact, this was the time when he was simply invincible with the bat. From playing the first Test match in 1974 to the final Test match in 1991, Sir Vivian Richards had a career that spanned 17 years. During this time, he gave his team and the cricketing community countless valuable moments to cherish as a skipper and a batsman on the field.
Then, came the year 1976 when the Test batting skills of Richards was on full display. He had played eleven Tests that year and gathered 1,710 runs. After all these years, it still stands second as the most runs in Test in a calendar year. His seven centuries, along with five fifties and two double tons, had made Richards score runs at an amazing average of ninety.
1. Mohammad Yousuf (Pakistan): 1788 Runs in 2006
Mohammad Yousuf, one of the greatest players from Pakistan, had nothing short of a magic year in 2006. This was the time when he made and broke a number of records in Test cricket. During his best days, Yousuf was seen as a highly dependable player who was the backbone of Pakistan's batting line-up. However, his game reached an entirely new level of awesomeness in 2006, when he amassed a whopping 1,788 runs in eleven Tests. Till date, it is the highest score in a calendar year. 
Beginning from the India series back in Lahore where he had scored 173 runs to ending with 124 runs in Karachi against the West Indies, Yousuf became a run machine that year. His score included nine centuries in a year (the most centuries in one year by a batsman), along with three half-centuries.
The Most Test Runs in a Calendar Year
| | | | | | | | |
| --- | --- | --- | --- | --- | --- | --- | --- |
| Player | Year | Mat | Runs | HS | Ave | 100 | 50 |
| Mohammad Yousuf (PAK) | 2006 | 11 | 1788 | 202 | 99.33 | 9 | 3 |
| IVA Richards (WI) | 1976 | 11 | 1710 | 291 | 90 | 7 | 5 |
| JE Root (ENG) | 2021 | 15 | 1708 | 228 | 61 | 6 | 4 |
| GC Smith (SA) | 2008 | 15 | 1656 | 232 | 72 | 6 | 6 |
| MJ Clarke (AUS) | 2012 | 11 | 1595 | 329* | 106.33 | 5 | 3 |
| SR Tendulkar (INDIA) | 2010 | 14 | 1562 | 214 | 78.1 | 7 | 5 |
Similar articles