24.11.2021,15:11 79 0
Matthew Wade Will No Longer Play Internationally After T20 World Cup 2022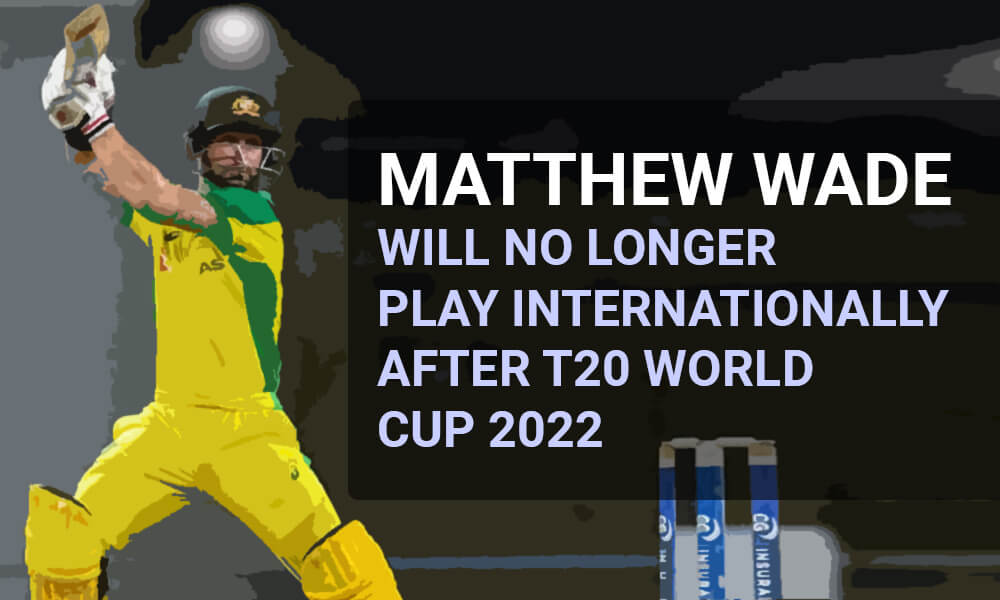 Matthew Wade, the brilliant Australian wicket-keeper recently remarked that he might "walk into the sunset" right after the T20 Cricket World Cup in Australia next year. In the semifinal match of the T20 World Cup 2021, Wade seemed unstoppable as he blazed through the Pakistani bowling lineup in his 17-ball 41 runs that played a crucial role in Australia's five-wicket win.
Matthew Wade Plans to Play His Last T20 World Cup in 2022
Wade gave his Test spot to Alex Carey in the upcoming Ashes. At present, the stumper is focused on defending the T20 title at home. He calls it his "next motivation" – to win that T20 World Cup, defend this prestigious title, and walk into the sunset. Wade's goal from here on is to focus on that and not play international cricket beyond the said World Cup.
The wicket-keeper spoke at length about the injury he had suffered during training before the final battle with New Zealand. He had a grade 2 side strain that made him quite worried right before the game. But if he had woken up to realise he was finding it unable to swing his bat, he would not have played.
Wade was worried that if they went in to bat first and he went hard at it, he might have just got a tear that would have prevented him from playing any further. At the end of the day, it would have hurt the squad. He decided to go out and play because he was sure he was not going to hurt the team.
The stumper was finding it hard to strike with enough force even in the warmup before the match. He said that he had bluffed his way through the time when he had hit a few balls before the match. Coach Langer made him hit more, and he reportedly felt fine after going through that.
Captain Aaron Finch Was Not the Best Shape as Well
The Australian skipper confirmed that the fear of Wade missing the final match had been always there. The doctor made Wade undergo a scan, whose results he did not want to know. But Finch was worried that a grade two tear in the side was going to make things difficult.
The captain had himself undergone a major knee surgery a few months back.
He revealed that he had had to push himself to the limit to be ready for T20 Cricket. Finch also added that he might need some time off to recover completely. Though he never thought of missing any match, he had decided to field nowhere other than the first slip for the entire tournament.
In fact, it seemed to him that there would be the first slip only for him for an entire match. His teammates would tell him that they were there for the IPL, and they never saw any catch taken at the slip. So, they kept telling him that standing at the slip wasn't necessary, while Finch insisted that it was.
Similar articles