01.10.2020,12:10 555 0
Punjab Cricket Association Stadium (Mohali Cricket Ground)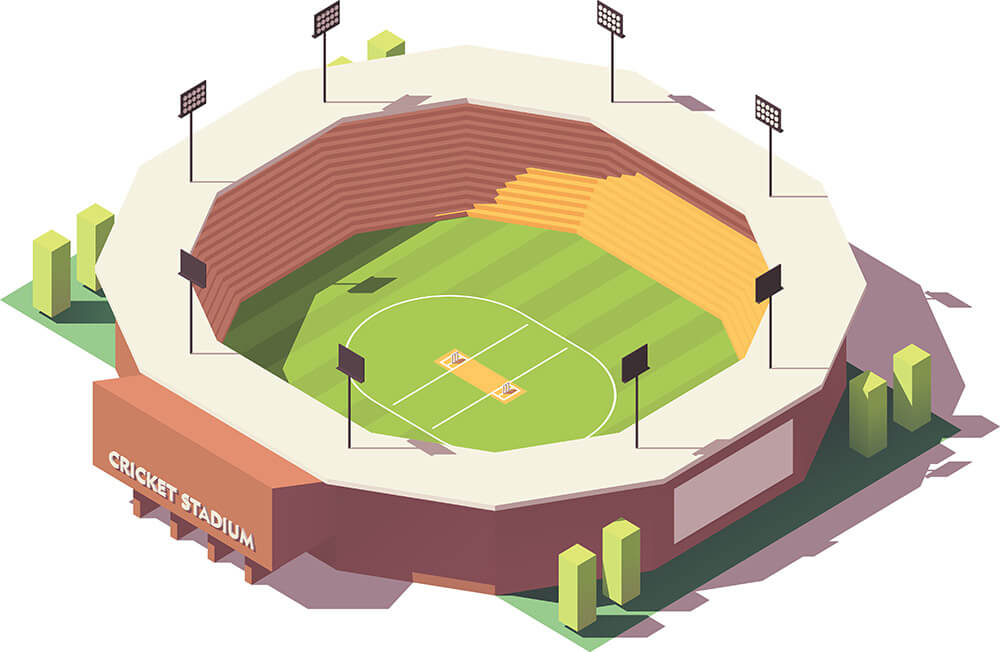 Punjab Cricket Association IS Bindra Stadium is a cricket stadium located in Mohali, Punjab, and is spread over 3.85 acres near Chandigarh International Airport. It is commonly known as Mohali Stadium. It was named after Mr. Inderjit Singh Bindra in 2015, a cricket administrator who served the Punjab Cricket Association (PCA) for more than 36 years and was also the President of the Board of Control for Cricket in India (BCCI). It is famous for hosting some breathtaking matches including the 1996 ICC World Cup semifinal between Australia and the West Indies which the former won by 5 wickets. It is a home ground for the Punjab cricket team and the Kings XI Punjab (IPL Franchise).
History
In 1990, Punjab Cricket Association decided to revamp a swamp on the outskirts of Chandigarh into a world-class stadium. It took 3 years and around INR 25 crores (USD 3.5 million) to build this stadium. It was designed by A R Khizir and associates under the guidance of Geetanshu Kalra and constructed by R.S Construction company from Chandigarh. It was unveiled to the spectators in a One-day International match of Hero Cup between India and South Africa on 22nd November 1993.
Pitch and Ground structures
Mohali Cricket ground has been known by its lush green and reputed for its support to fast bowlers. It is the liveliest pitch in India prised by many who has played there. The pitch is covered by grass too. The distance between the wicket and boundary is 75 yards. Despite it being called a pacer's heaven, the pitch becomes slower in late overs of the match helping spinners and batsmen. The floodlight pillars are not as tall as the Mohali stadium is close to an Air Force base. Therefore, Mohali stadium has 16 light towers, all rather short. The bowling ends are called Pavillion End and City End. The ground has huge dressing rooms, world-class practice facilities and a gym. Daljit Singh is the current pitch curator of the PCA stadium. The capacity of Mohali stadium is 30,000.
Records
Mohali Cricket Ground ODI records:
Since its inauguration in 1993, Mohali Cricket ground has hosted 25 ODI games. 60% of the matches have been won by the team batting first. India won the first ODI hosted by the ground by 43 runs. Vinod Kambli scored 86 runs in 116 balls and was awarded Man of the Match for his performance. In 2017, Rohit Sharma scored 208 runs in 153 balls, hitting 13 boundaries and 12 sixes against Sri Lanka. India put 393 as target and won the game by 141 runs. Mohali Stadium has seen some high-scoring successful chases in the last 6 games. The team batting second has won 5 out of the 6 games. Australia chased 358 runs in the final ODI match hosted by this ground. Ashton Turner bullied the bowlers scoring 84 in 43 balls helping Australia win by 4 wickets.
Australia has been the most successful team on Mohali Cricket Ground in ODIs. They have an 85.71% winning ratio. Rohit Sharma tops the list of the highest run-scorers list with 410 runs in 5 games at an average of 102.50.  Harbhajan Singh has taken 11 wickets in 6 games at an average of 24 and tops the list of the leading wicket-takers.
Mohali Cricket Ground Test records:
One year after it's first ODI, Mohali Cricket Ground hosted its first Test match on 10 December 1994 between India and the West Indies. The West Indies' left-hander Jimmy Adams scored 174 and 78 in the 1st and 2nd innings respectively to help the West Indies win by 243 runs. In 13 matches played on this ground, this has been the only match with visitors winning. India has won 7 out of 13 games and has drawn 5. Australia, on the other hand, has a completely different record in Tests as compared to ODIs on this ground. Australia has lost 3 out of 3 games they have played at Mohali Cricket Ground. Mohali stadium has seen 18 debutants in 13 games, including Yuvraj Singh, Shikhar Dhawan and Kagiso Rabada. New Zealand has scored 630/6 against India to top the highest total in an innings. Sachin Tendulkar tops the highest run-scorer chart with 767 runs in 11 matches at an average of 47.93 while Anil Kumble leads the wicket-taking table with 36 wickets in 7 games.
Mohali Cricket Ground T20I records:
5 T20I games have been played at Mohali Cricket Ground. India hosted Sri Lanka in the first game in 2009. India won the game by 6 wickets. India has a 100% T20I record at Mohali. Virat Kohli has scored 154 runs in 2 games to top the list of players with the most runs and hasn't got dismissed yet. James Faulkner has 6 wickets here with his career-best 5 wickets for 27 runs in 4 overs. Local lad Yuvraj Singh is 2nd when it comes to both the most runs and most wickets.
Mohali Cricket Ground World Cup records:
Mohali Cricket Ground has witnessed 4 ICC World Cup matches including the semifinals in 1996 and 2011 and 3 ICC World Twenty20 matches. The 1996 semifinal between Australia and the West Indies kept everyone on their toes with a breathtaking result. The West Indies required 48 runs in the last 60 balls of the game. However, Australia won the game by 5 runs with solid death-over bowling by Glenn Mcgrath and Shane Warne. The 2011 ICC World Cup semifinal caught the world's eye as Prime Ministers of India and Pakistan were present as a part of the peace process between the two countries. India won the game by 29 runs and kept the clean record against Pakistan in world cups. The team batting first has won 6 out of 7 matches played so far.
Mohali Cricket Ground IPL records:
Mohali Cricket Ground is home for Kings XI Punjab (KXIP), a franchise in the IPL. Mohali hosted the second game of the inaugural IPL in 2007-08. KXIP lost the game to Chennai Super Kings (CSK) by 33 runs. In the 2019 season, KXIP won 5 games out of 7 played at this venue.
Conclusion
With 43 international games witnessed so far, Punjab Cricket Association IS Bindra stadium has proved that it is one of the most lively pitches in India. In March 2010, Punjab Cricket Association (PCA) announced their plans to upgrade the Mullanpur International Cricket Stadium to a capacity of 40,000 and to host international games there. Since then, the PCA has started renovating Mohali Cricket Ground to an International Cricket Academy.
Punjab Cricket Association Stadium
Also or formerly known as
Punjab C.A. Stadium, Mohali, Chandigarh
Established
1993
Floodlights
Yes
End names
Pavilion End, City End
Home team
Punjab
Curator
Daljit Singh
Similar articles