26.08.2021,16:08 160 0
T Natarajan: I Teared up When Virat Kohli Handed Me the T20I Trophy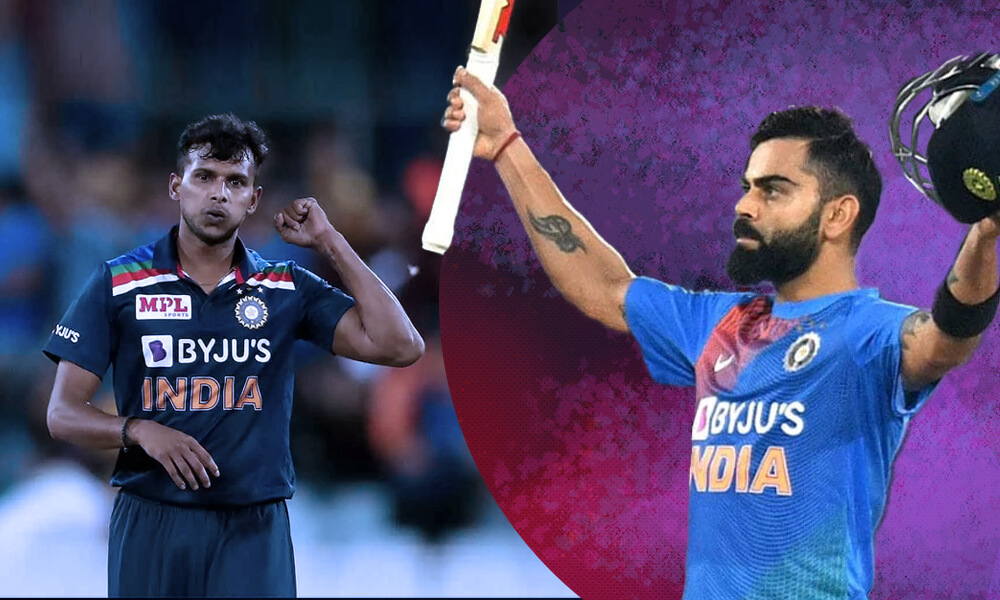 Natarajan experienced a crowning moment when he was handed the T20I trophy on the India tour of Australia by skipper Virat Kohli.
"I never expected it. I didn't expect Virat Kohli to come over and hand the trophy to me; I was just standing on the side. Kann Kalangitten [I teared up]. When a legend like Kohli came in and gave the trophy over to me it was a great feeling – I can't describe it."
Natarajan Given a Warm Welcome Back to His Hometown
The people of Chinnappampatti, a small town near Salem in Tamil Nadu, gave their homegrown cricketing hero a rousing reception that included a display of fireworks, drumrolls and hoardings, when Natarajan drove down from Bengaluru, returning home from the India tour of Australia after making his international debut in all three formats. The left-arm seamer had also contributed to India's historic victory at the Gabba. Cric-life.com learned that a horse-drawn carriage carried Natarajan home to his parents and family members where the townsfolk thronged to take selfies with the player.
Seamer Reacts to Reception
Natarajan's reaction said it all:
"I'm so happy right now. There's no limit to it and I just can't explain that feeling. I never expected to get this kind of a reception. I have to thank the people in my village. It was an unforgettable experience in my life and I dreamt of making it big, hoping to bring recognition to Salem. It's all god's grace, and I'm so happy right now. There's no limit to it and I just can't describe that feeling. I just feel like being selected for the Australia tour was a gift for me."
Fortune Smiles on Natarajan
Selected initially as a net bowler for India's tour down under, Natarajan became the first Indian cricketer to play his first games in all three formats on the same tour, thanks to a quirk of circumstances. The seamer played his first T20I after Varun Chakravarthy got ruled out due to an injury. Added to the ODI squad as an injury cover before the first game, Natarajan played his first 50-over international in the 3rd match in Canberra, taking 2 for 70 to contribute to India's victory. The dream began when Natarajan dismissed Marnus Labuschagne to snare his first ODI wicket.
"I just wanted to do my job. I was suddenly given an opportunity – I didn't expect to make my one-day debut there [Canberra]. Suddenly they [the management] told me that I would be playing and that was pressure for me. But I wanted to make the best use of this opportunity, so I shifted my focus to that. That [first] wicket and everything that followed seems like a dream to me."
IPL Experience Made It Possible
According to the bowler, his journey to international cricket has become smoother after rubbing shoulders with senior Indian players and overseas cricketers for four years in the IPL in which he represents Sunrisers Hyderabad. Kings XI Punjab first bought up the TNPL player in 2017 for INR 3 crores. After spending a couple of seasons on the Sunrisers' bench, he was suddenly transformed into their strike bowler in the 2020 season held in the UAE.
Similar articles