19.08.2021,13:08 3026 0
History of Cricket in Zimbabwe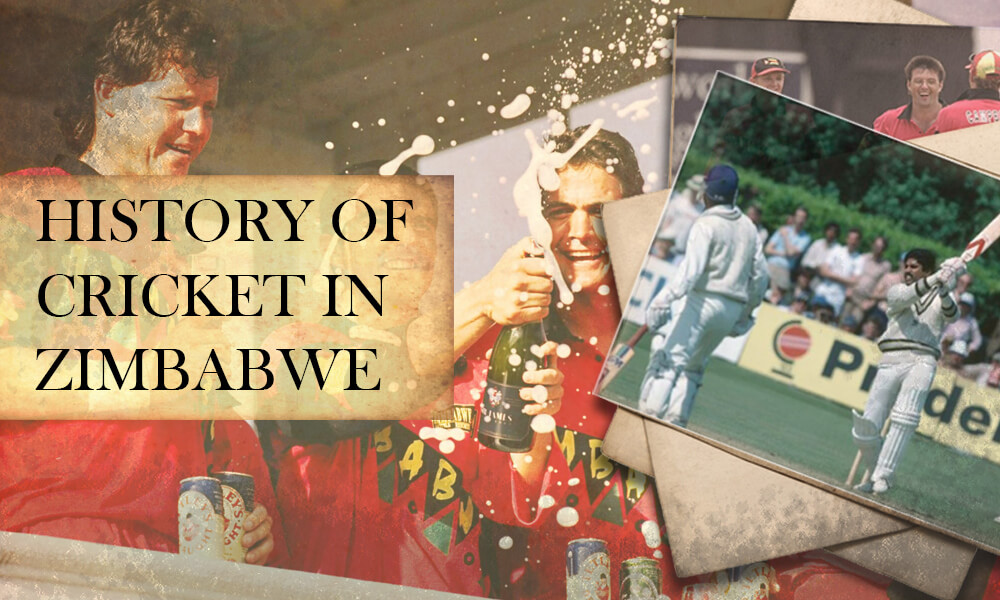 There are 12 Full Member cricket nations to date and Zimbabwe were the ninth to be granted the status. The Zimbabwe national cricket team are famously known as Chevrons.
Test Cricket
They played their first-ever Test against India in October 1992 in Harare. They showed tremendous improvement in their performance in the early days of becoming a Full Member. In 1995, they won their first-ever Test match against Pakistan. The match was a big boost for the team and many good players started to evolve from there.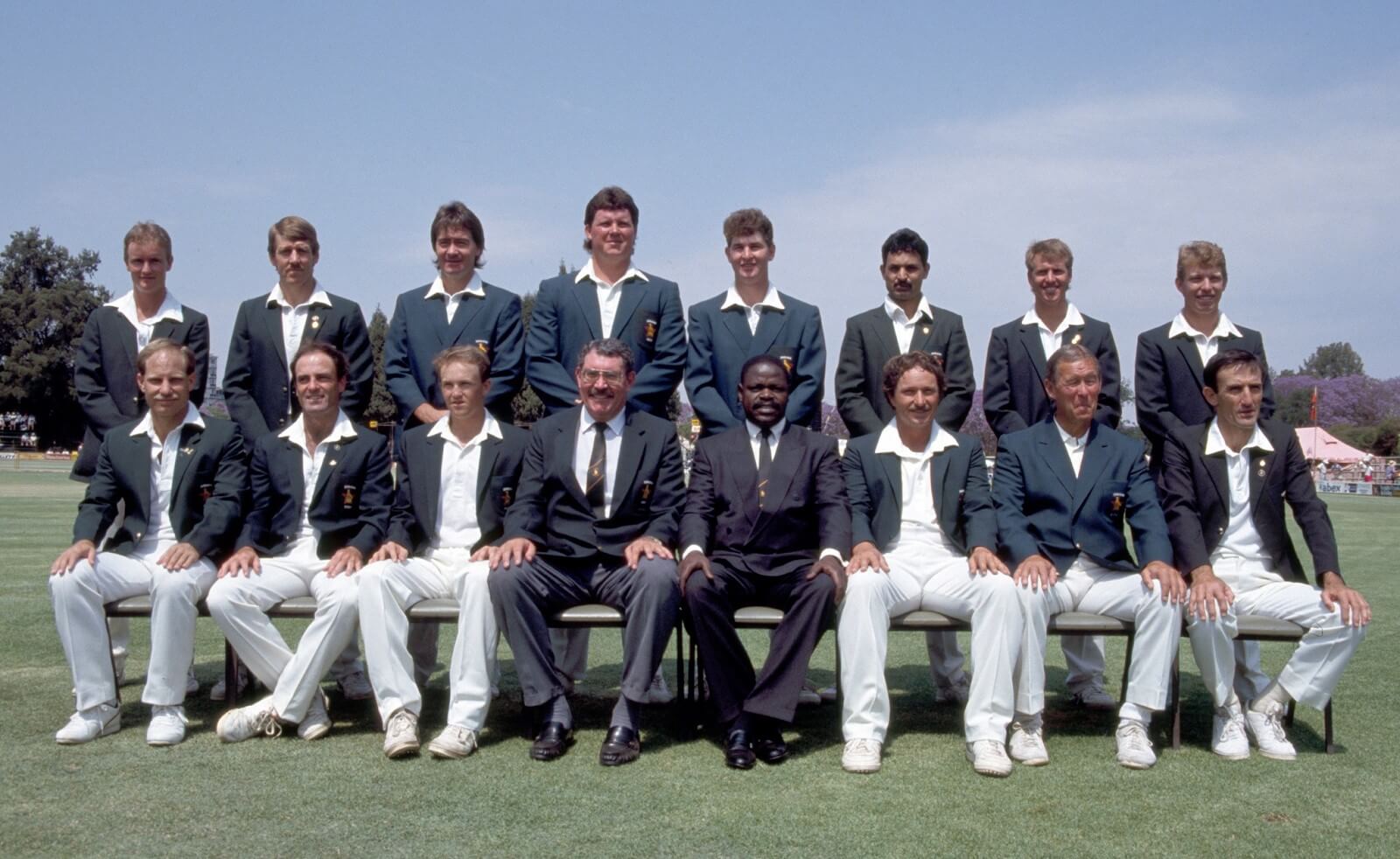 Zimbabwe's first-ever Test team (source)
Zimbabwe drew a three-match Test series against a good Sri Lankan team in 1994/95. They then toured New Zealand in 1995/96 and drew the two-match Test series. They also invited England in 1996/97 and drew the two-match Test series. Further, they drew a two-match Test series at home against New Zealand in 1997/98.
1999 was probably their best year in Test cricket. They invited India for a one-off Test and won it. Thereby, they claimed their maiden Test series win against India. They also invited Pakistan for a three-Test series. They won one Test and drew two others. They thus won the series 1-0 and claimed their first-ever series win against Pakistan. In 2000/01, they invited Bangladesh for a two-Test series, winning both matches. It was their first instance of whitewashing a side in a Test series. They then toured Bangladesh in 2001/02 for a two-Test series. They won the series 1-0 and claimed their maiden away series win in Tests.
Andy Flower holds the record for the best average for a wicket-keeper-batsman and the highest individual score for a wicket-keeper-batsman in Tests. Heath Streak is one of the few all-rounders to have 1500+ runs and 200+ wickets in both Tests and ODIs. After some poor performances following the resignation of senior players, the Zimbabwean team was voluntarily suspended from Test cricket in late 2005 by their cricket board and the ICC. However, with their improved performances in the early 2010s, they started to attract more international teams to play in their country. Such teams as South Africa, Bangladesh and Pakistan started to tour Zimbabwe.
They returned to Test cricket after six long years in 2011 and made a memorable comeback as they beat Bangladesh by 130 runs. In 2013, they drew a Test series against a formidable Pakistan side. This was the first time in 12 years they won a Test against a side other than Bangladesh. They haven't played many Tests since then. They drew a two-Test series against Bangladesh in 2017. After that, they drew a two-Test series against Afghanistan in 2020/21. Their record in Tests has been decent so far. Out of 115 Tests, they've won 13, drawn 28 and lost 74.
ODI Cricket
The team attained the Associate Member status on 21 July 1981 and soon after, in 1983, they played their first-ever world cup. They competed well in the tournament. Though they lost five out of their six matches, they created an upset by beating Australia in one of their league matches. The result was so impactful that it hindered Australia's chances of making it into the semifinals of the tournament.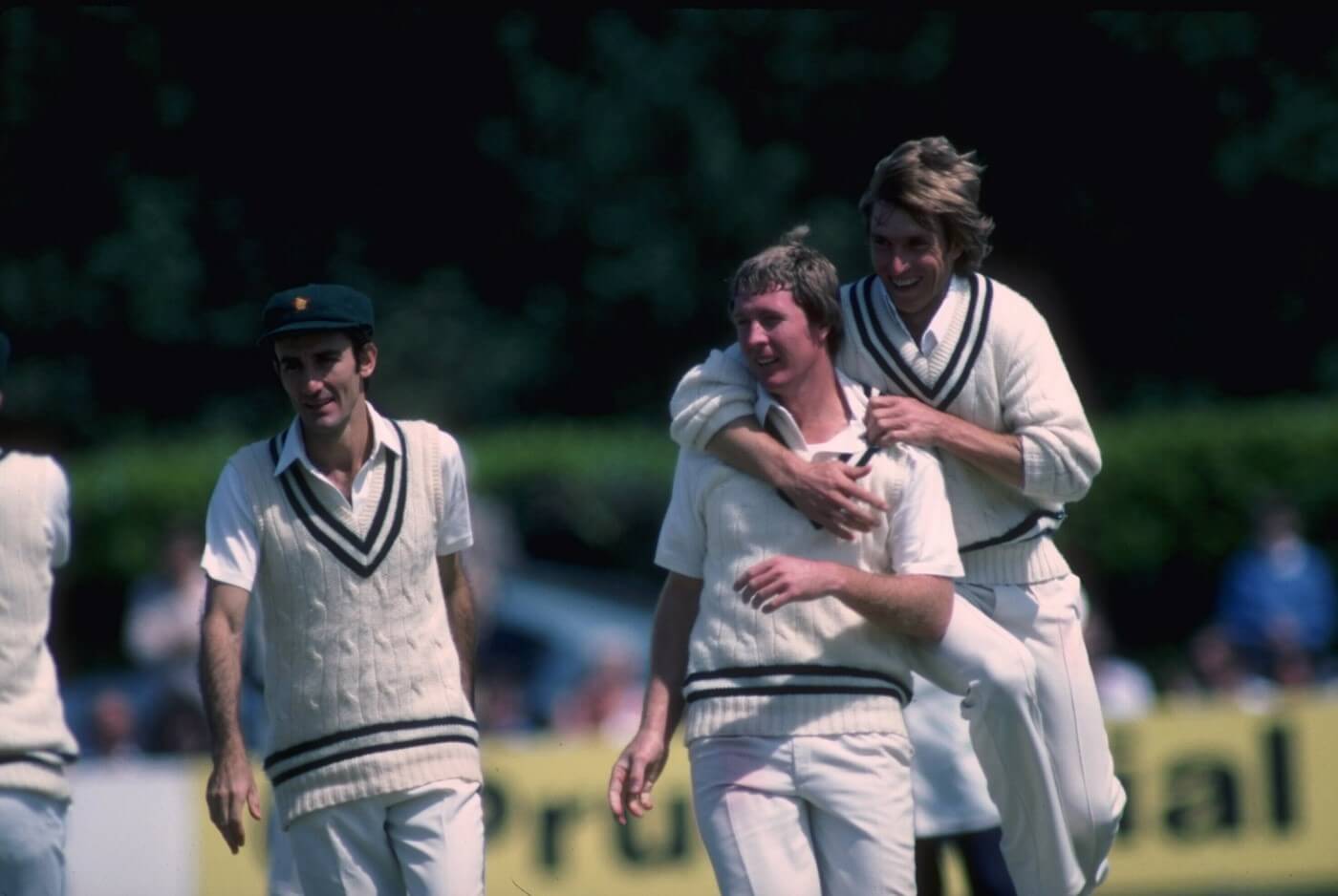 Zimbabwe upset the Australian team in the 1983 World Cup (source)
Their campaign in the 1987 and 1992 World Cups didn't go well but they almost defeated Sri Lanka in a league match in 1992. They also beat England, the eventual runners-up of the tournament, by 9 runs.
The period from 1997 to 2002 is referred to as the golden period of Zimbabwean cricket. They had some really good players in their team like Andy Flower, Grant Flower, Heath Streak, Alistair Campbell, Murray Goodwin, Henry Olonga, Paul Strang, Neil Johnson. Andy Flower, Grant Flower and Heath Streak were world-class players. Andy Flower scored over 6000 runs as an ODI wicket-keeper-batsman, which is rare. Grant Flower scored over 6000 runs and picked 100 wickets as an all-rounder in ODIs, a good achievement too. Their journey in the 1999 World Cup was amazing. They beat world-class teams like India and South Africa in group matches. South Africa was arguably the best ODI team during the time. Zimbabwe managed to progress to the super six stage, where they finished fifth. They missed a semifinal berth by a whisker due to the run rate. Needless to say, they impressed the cricketing fraternity by their improved performances.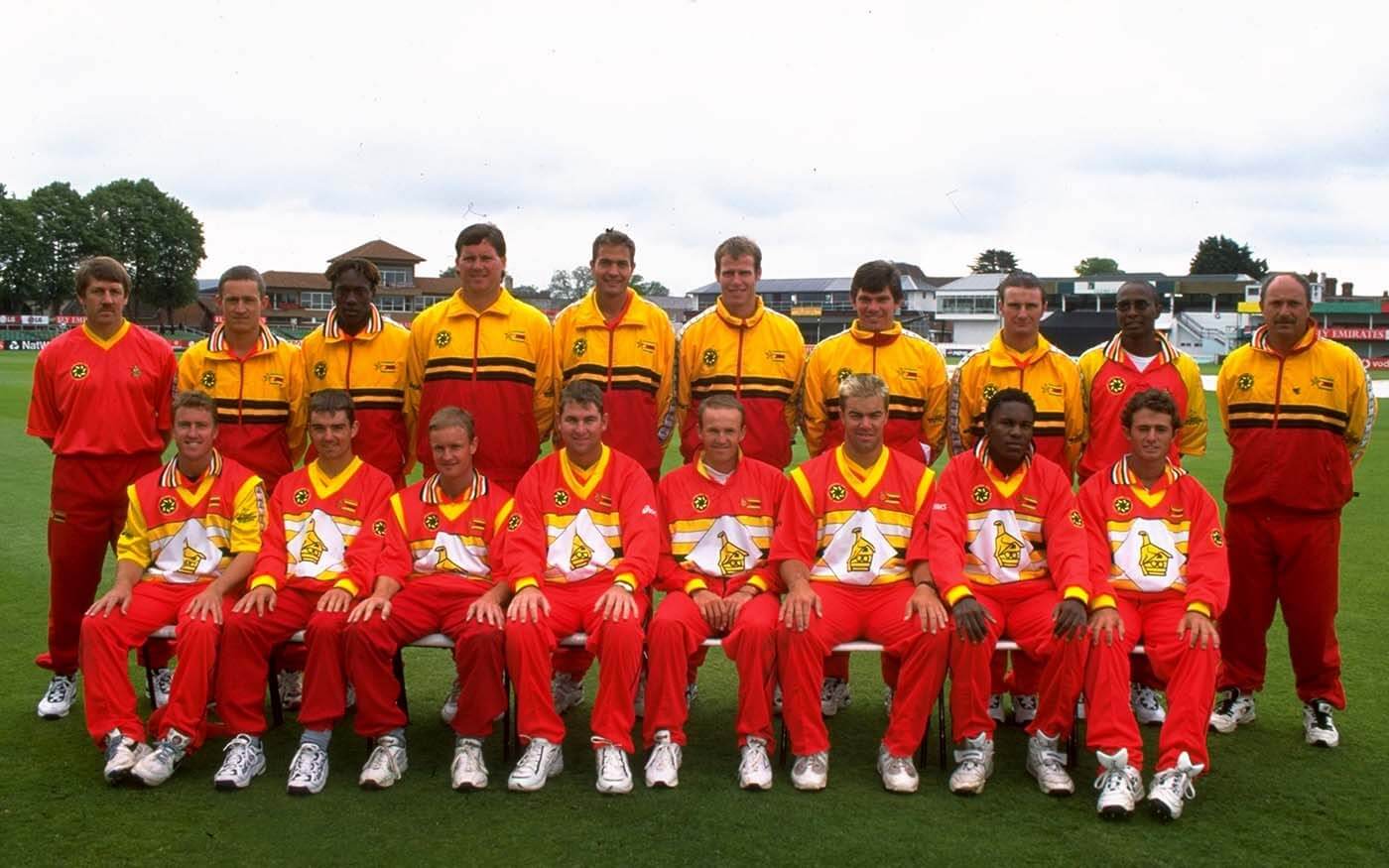 The 1999 World Cup Zimbabwe team (source)
During their golden period in cricket, they beat almost all top cricketing nations except for Australia. They won series against New Zealand both at home and away. They competed well in multinational tournaments and often upset stronger teams. Unfortunately, the increasing politicisation of cricket led to their decline. Their selections were disrupted too. They became the hosts of the 2003 World Cup, which ended on a disappointing note.
The team faced several financial challenges, management issues from there. Their 2007 World Cup campaign didn't go well. They failed to beat Ireland, an associate team back then. The board's and players' issues didn't seem like they would get solved anytime soon. There was an individual brilliance from Charles Coventry in an ODI against Bangladesh in 2009, when he scored an unbeaten 194, which was the joint-highest ODI score for about a year. Zimbabwe entered the 2011 World Cup with no expectations. It was a decent tournament for them as they won two of their six league matches, against Canada and Kenya. Brendan Taylor was named the captain of the side after the tournament.
The revival began as they announced building a new stadium and sports club. They won their first ODI series against a full member in five years by beating Bangladesh 3-2. In an ODI against New Zealand, they chased a mammoth total of 329, which was also their first-ever successful 300+ run chase in ODIs. Their 2017 tour of Sri Lanka was memorable. They won their first-ever ODI against Sri Lanka in Galle. Zimbabwe lost the next two ODIs and were trailing 1-2 in the series. Zimbabwe managed to win the last two ODIs and claimed a sensational away series win against Sri Lanka. It was their first-ever series win against Sri Lanka and their first-ever away series win since 2009.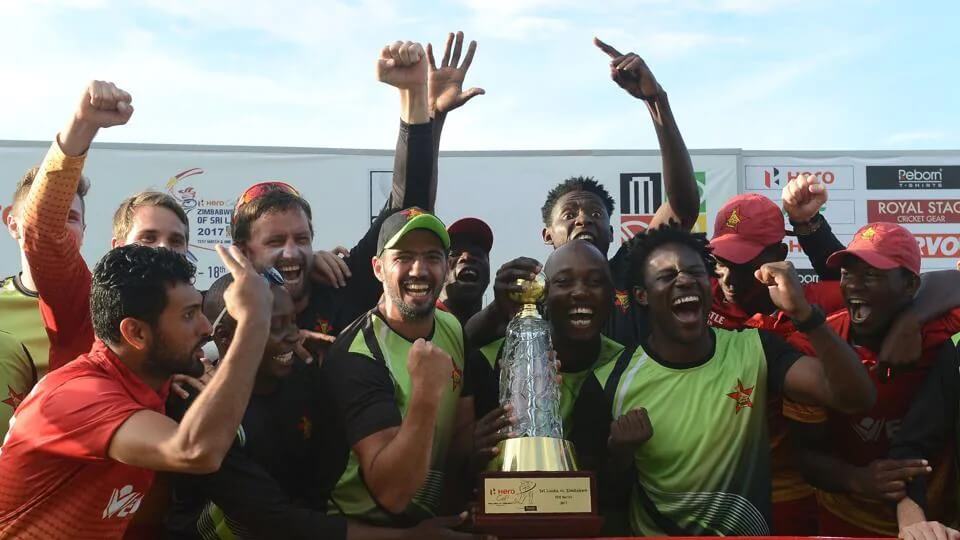 Zimbabwe's series win in Sri Lanka (source)
They have been competing well regularly since then. Nevertheless, due to the improvement shown by other associate teams and the format being reduced to just 10 teams, Zimbabwe failed to qualify for the 2019 World Cup. Out of 535 appearances in ODIs, they've won 138, lost 378, tied 8, while 11 games ended with no result.
T20 CricketIn 2007, Zimbabwe prepared to play their first-ever T20 World Cup. They were placed in a group that had the likes of Australia and England. And they stunned everyone by upsetting a world-class Australian team.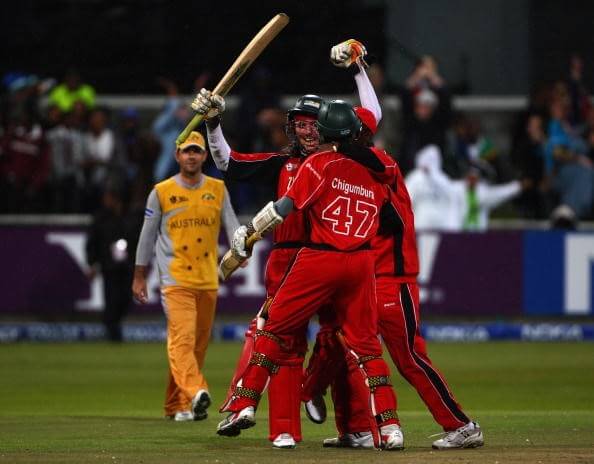 Zimbabwe upset Australia in the 2007 World T20 (source)
After upsetting Australia in their maiden T20 World Cup, Zimbabwe couldn't qualify for the second T20 World Cup in 2009. In the 2010 World Cup, they were placed in a group that included world-class teams like New Zealand and Sri Lanka. They lost both their matches and exited from the World Cup. In the 2012 World Cup, they were placed in a group that had the likes of South Africa and Sri Lanka. Again, they eventually lost both games and exited the tournament.
Their 2014 World Cup was decent. They were placed in Group B of the qualifying round and managed to beat the UAE and the Netherlands, but they couldn't progress further in the tournament due to an insufficient run rate. Their 2016 T20 World Cup wasn't great. Though they beat Hong Kong and Scotland in group matches, they lost to Afghanistan by a whopping 59 runs, which led to their exit from the tournament.
They haven't played many T20Is, but they have still managed to beat world-class teams like Australia, Bangladesh, India, Pakistan and West Indies. Out of 88 T20Is, they've won 20, lost 66 and tied 2 matches.
ConclusionZimbabwe have had some great achievements in cricket but they have been too few and far in between. Once a pretty good limited overs side, now they are lingering at the bottom of the ICC rankings. The turmoil in the country made the situation worse. Hopefully, the Flower brothers – Andy and Grant – will continue to inspire fellow Zimbabweans and we will see a better Zimbabwe side in the coming future.
Similar articles