19.11.2021,15:11 735 0
Eoin Morgan: 2019 World Cup Allowed Players Scope to Tell Stories
English cricket captain Eoin Morgan is an icon for many reasons, but his crowning achievement is undoubtedly the act of taking his team to their first-ever ODI World Cup trophy. Now, the veteran cricketer says that the win allowed his players to tell their stories with a louder voice.
Now 35 years old, Morgan has been going through a rough patch in terms of batting performance for a while now. His last half-century fails our memory, and his 40 against Sri Lanka was his highest in a long time. While captaining Kolkata Knight Riders in the IPL, he failed to register a single decent score for the team in as many as 17 matches despite the team going all the way to the final, where they lost to Chennai Super Kings.
While he might well be on his way out of the gentleman's game, Morgan's invaluable experience and commendable achievements still hold plenty of clout in the cricketing arena.
Himself Irish by birth, Morgan captains a side that features players belonging to more races and ethnicities than almost any other in the world. With recent allegations of racism being directed at English cricket in general, Morgan has been a central figure in the media's search for answers.
Speaking to them via video call, Morgan stated that the players were informed of the developing situation despite having the semifinal of the ICC Men's T20 World Cup 2021 looming ahead. He stressed the urgency of the matter to his diverse squad, saying that it was of utmost importance that the whole team be on the same page.
He also said that being united in diversity was one of the team's strengths and that the team's core values were meant to impress audiences.
Morgan explained that all quarters need to be heard and examples set during times of great change in order to come to the best possible resolutions for a better future. He added that England players are open about their experiences with discrimination as the sheer diversity allows them to reach more eyes and ears.
To that effect, Morgan said that his team's triumph in the 2019 ODI World Cup greatly assisted in giving the players a more sizeable platform to speak out from, along with the confidence to be able to do so. According to Morgan, it also raised the stakes as far as their behaviour on and off the field was concerned, as being role models to countless aspiring young cricketers from all kinds of backgrounds gave them more of a sense of responsibility.
The England captain finished by saying that the team wanted to encourage those aspirants to dream of one day donning the England jersey and representing the team no matter where they come from.
Speaking about his teammates, Morgan rued missing the likes of Jofra Archer, Ben Stokes, Jason Roy, and Tymal Mills for their semifinal fixture against the Kiwis, which they ultimately went on to lose by a narrow margin.
Following the end of the T20 World Cup, the England cricket team will enjoy a short reprieve before playing two practice matches against their own reserves team before heading off to Australia for the all-important ashes.
Having been dropped from the longer format of the game long ago, Morgan himself won't be back to international action until the English team tours the West Indies in February 2022.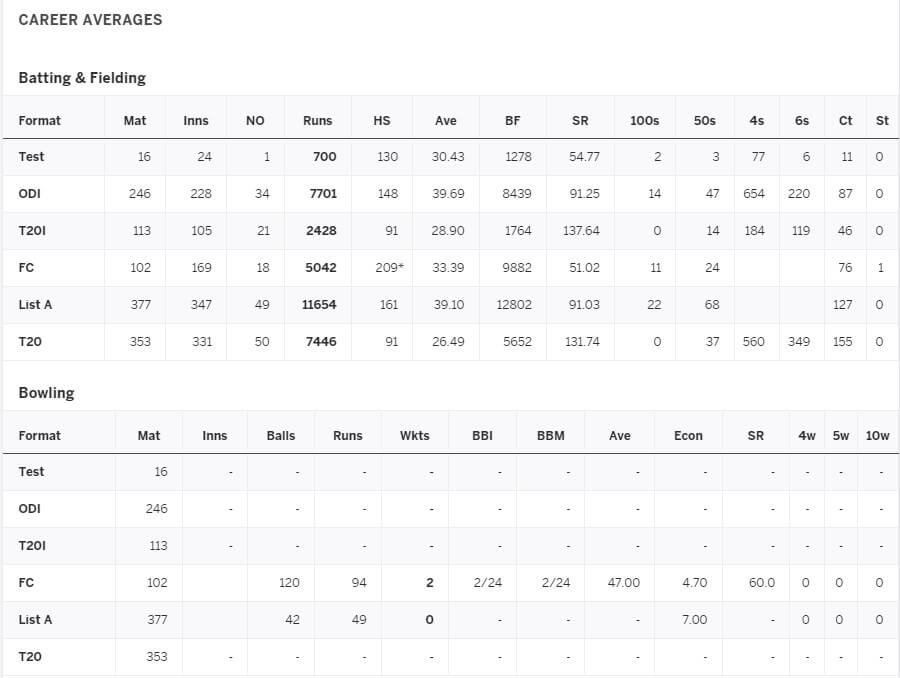 Eoin Morgan's career statistics (Source)
For more news about the world of cricket, take a look at cric-life.com.
Similar articles