10.08.2021,13:08 245 0
History of Cricket in Ireland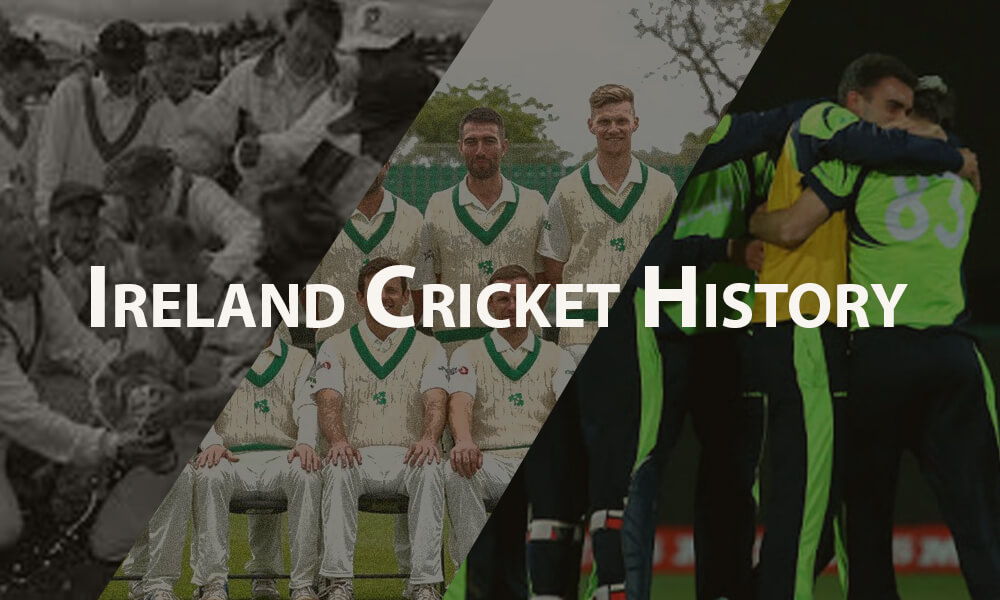 Analysing the history of cricket, we get to know that this game was brought by English people to many countries and Ireland was also a part of this. In the early 1800s, this game was introduced in Ireland. Garrison towns of Ballinasloe and Kilkenny were the first to get introduced to this game. But the actual spread of cricket started between 1830-1840, as many cricket clubs were joining to become a part of this game. Until 1855, Ireland didn't have their national cricket team. It was in 1855, that the first national team of Ireland was formed and they played their first match of cricket against The Gentlemen of England in Dublin.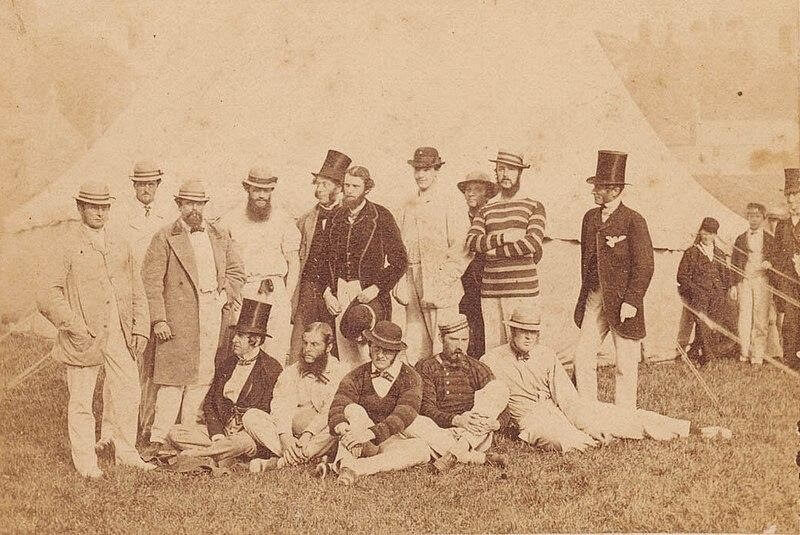 All-Ireland United Cricket team in Dublin (source)
After that, Ireland gave permissions to visitor countries and in the 1860s, cricket touring began in Ireland. MCC was the first club to play in Ireland against their national team in 1858. In 1921, Southern Ireland separated, with many players being separated as well, but Ireland managed to send their teams to the USA and Canada in 1879, 1888 and 1909. Then onwards, the game spread through the whole country and many players started to get interested in this game. The country started to arrange annual matches against the MCC in 1924 and many clubs from different countries were called to play on Irish soil. They are remembered for beating West Indies in 1928 and 1969 and they are now famous for playing fearless cricket.
ODI History of Ireland
Ireland started to play 50-over matches in 1980. They took part in their first-ever 50-over competition which was called the Gillette Cup in England. This was officially the team's first-ever limited overs match. In 1993, ICC allowed them to be a part of the ICC associates and they were granted member status for the first time since the establishment of this game in the country. In the next year, they participated in their first ICC trophy and finished the campaign 7th out of a total of 20 teams. They worked hard on their skills and came back stronger to finish their campaign by qualifying for the semifinal in 1997 in the same tournament.
They tried to take part in the ICC cricket world cups but failed to do so in 1996, 1999 and 2003. Finally, after struggling in qualifiers of 3 world cups, they played their first world cup match in the 2007 ICC World Cup which was played on Caribbean soil. Although they had West Indies and Pakistan in their group, they managed to qualify for Super 8 in that edition and they knocked out Pakistan in the group stage. They finished 8th in the Super 8. The team came into glory once again in the next edition of the ICC World Cup which was played in India, Sri Lanka and Bangladesh. They failed to reach the round of Super 8 but stunned all by defeating England in the group stage by chasing 328 runs in Bangalore.  Kevin O'Brien scored a 50-ball century against England in that run chase, the fastest century in the history of world cups.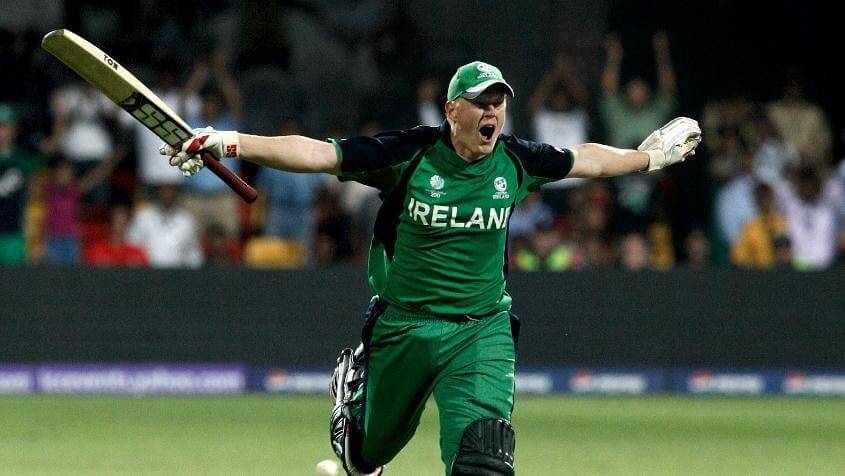 The fastest world cup centurion, Kevin O'Brien (source)
In the next edition of the World Cup, they defeated the Windies in the group stage with the help of Paul Stirling's 92 runs from 84 balls while chasing the target of 305 runs but failed to qualify in the ICC World Cup 2019 which was played on English soil. Ireland played the first ODI series against England in 2006 and to date, they have played 170 ODIs matches with victories in 71 matches. Paul Stirling holds the record of scoring the most runs in Ireland's ODI history. In 131 matches played from 2008 to 2021, he has scored 4874 runs in 128 innings for his country. He has 12 centuries and 26 fifties to his name. Kevin O'Brien who stunned all in the 2011 World Cup by playing a match-winning knock against England, is the current leading wicket-taker of the country. While playing for his country since 2006, he has taken 114 wickets in 56 matches.
T20I History of Ireland
When the new T20 format arrived, the Irish Cricket Club tried to build a squad that would fit into that new format and they succeeded in doing that in 2007. Although they tried to get a place in the inaugural T20 World Cup, they failed in the qualifier round in 2007. In 2009, they attempted again and managed to be in the top 8 after the group stage. In the next 4 consecutive world cups in 2010, 2012, 2014 and 2016, they just managed to finish their campaign in group stages.
Now, in 2021, they have qualified for the T20 World Cup and will play a qualifier round for the top 12. Ireland played their first T20 match against Scotland in the 2008-2009 World T20 qualifier round. They have played a total of 101 T20 matches and remained victorious 42 times. In this format also, Paul Stirling is the leading run-scorer for this team and has scored 2167 runs in 81 matches at an average of 29.28 by scoring 18 fifties so far. He is the 6th-fastest to score 2000 runs in the T20I format and the 2nd on the list of players with the most number of runs in a single calendar year. He scored 748 runs in T20Is while playing for his team in 2019. The team's all-rounder Kevin O'Brien is the only player to score a 100 in this format for Ireland and he also has an unwanted record to his name, namely for the most ducks (12) in T20 format. Currently, the Irish team is 13th in the ICC T20 ranking and will play the qualifier round of this year's T20 World Cup.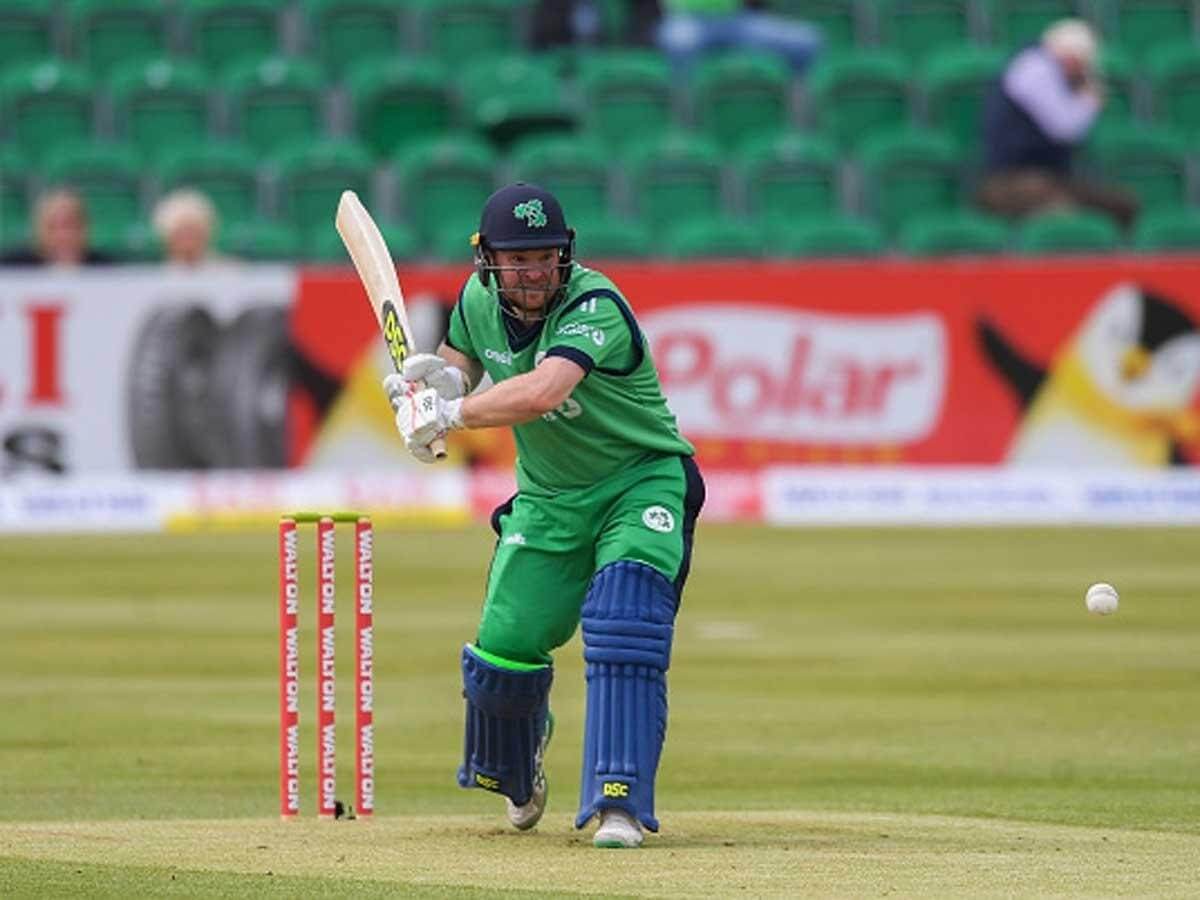 Paul Stirling playing against West Indies who became the 6th-fastest to score 2000 runs in T20Is (source)
Test Cricket History of Ireland
After playing cricket for more than 200 years, Ireland finally got full member status from the ICC in 2017 and became the eleventh team of the Test format. Later on, in May 2018, Ireland hosted their first Test against Pakistan which they lost by 5 wickets. William Porterfield led that Test team. He has been playing for the country since 2006. Although they lost that match, the team's key bowler Tim Murtagh shone in that series by taking 6 wickets in 2 innings. Kevin O'Brien scored a hundred (118 runs from 217 balls) on his Test debut in the second innings of the match.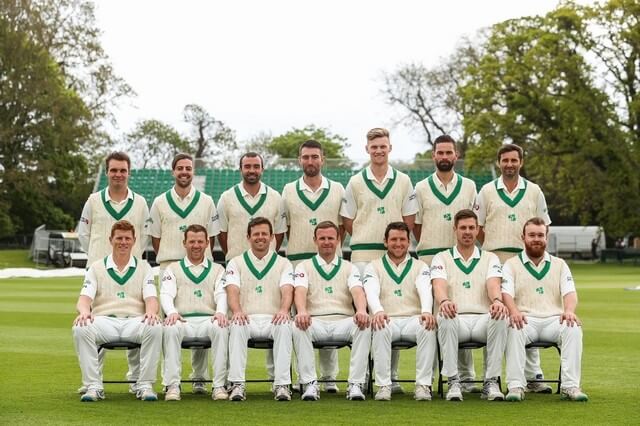 Ireland's first Test team against Pakistan in 2018 (source)
In March 2019, Ireland played their first touring Test in India against Afghanistan which also resulted in a defeat. The team played the 3rd Test against England in July 2019 on English soil and stunned all as they bowled out England in just 85 runs in the first innings. Tim Murtagh took his first 5-wicket haul for just 13 runs. Nevertheless, they failed to chase down the target of 182 runs and got all out on just 38 runs to put themselves 8th on the list of the lowest totals in Tests.  So far, the team has played 3 Test matches and lost all three of them.
Conclusion
Ireland have always played under the shadow of England. They even lost one of their best limited overs players to England who is now the captain of their ODI side – Eoin Morgan. Ironically, it has been the England cricket team that they have troubled the most on the big stage – such as the defeat in the 2011 World Cup in India. Despite strong performances over the years, many believe that they were given the Test status pretty late and even with it, they get very few chances to play at the Test level. Hopefully, that will change soon.
Similar articles