01.07.2020,13:07 1453 0
Most Runs in ODI Cricket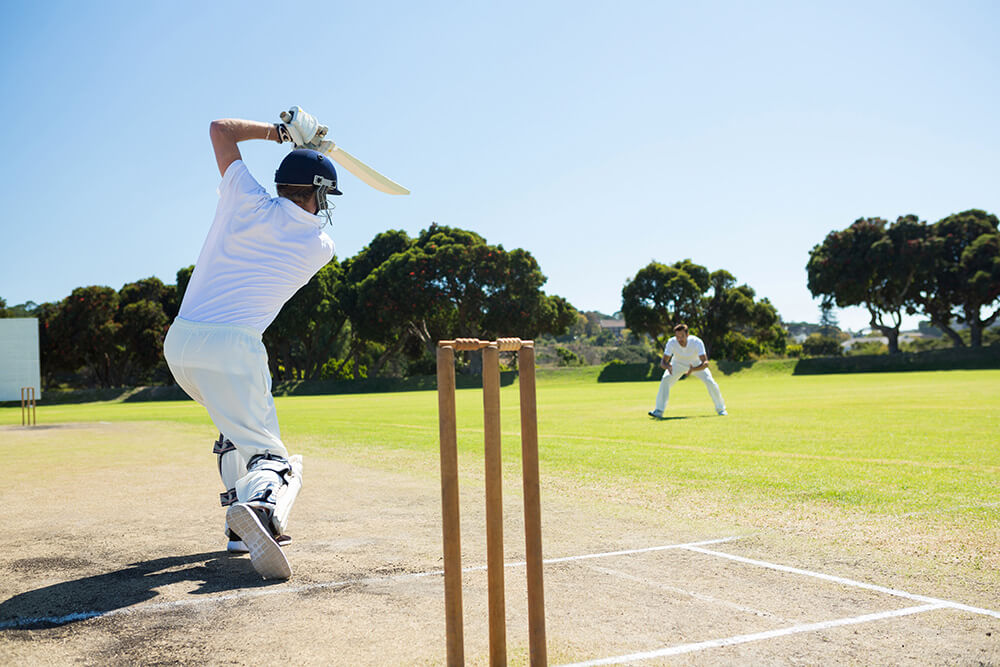 One-day Internationals (ODIs) is a format that still has its faithful fans despite rapidly increasing popularity of T20s. The ODI Cricket World Cup held once in four years is a big draw in the international cricket calendar. In general, a versatile batsman excels in both Tests and ODIs. This can be seen from the list of the highest-scoring batsmen in ODIs which includes players who have also shown great results in their Test careers. So, without further ado, let's get down to reviewing the list of ODI top scorers.
Top-7 List of Players with Most Runs in ODIs
The batsmen who are included in the list are those who have managed to score quickly as well as to play long innings which, as a result, has helped them amass record numbers of runs in ODIs.
Sachin Tendulkar
Legendary batter Sachin Tendulkar is considered the top scorer in ODIs with 18,426 runs. He has cracked those runs in 463 ODIs at an average of 44.83 and a strike rate of 86.23 with 49 hundreds and 96 fifties. The secret of Tendulkar's success is his extraordinary timing combined with a heavy bat forcing the ball beyond the reach of fielders. This genius has been working hard on his skills, developing his natural talent and improving his technique to greatly contribute to India's victories almost on his own.
Tendulkar's 49 ODI hundreds are truly remarkable because he has scored his first ton in his 79th game only. Moreover, he is the first batter to crack an ODI double hundred. In addition, he has notched up 100 centuries in international cricket, which is a record that has all the chances to stay unbeaten for a long time. Undoubtedly, our general perception of the player is enhanced by his amiable personality: Tendulkar has always preferred to let his bat do all the talking and kept away from needless controversies on and off the field.
Kumar Sangakkara
Wicket-keeper-batsman Kumar Sangakkara of Sri Lanka is second on our list with 14,234 runs in 404 ODIs at an average of 41.98 and a strike rate of 78.86 with 25 hundreds and 96 fifties. Sangakkara is a graceful and elegant batsman who has been especially adept at playing pull and cut shots. This cricketer is known for his suave sledging behind the stumps – probably a result of previously received legal education.
In fact, Sangakkara could have been even more effective in ODIs hadn't he often thrown away his wicket by playing a rash stroke when well-settled. However, captaincy made him more responsible and he led Sri Lanka to many victories. His great expertise behind the stumps in ODIs made him a valuable all-rounder for Sri Lanka in this format. He snared 402 catches and effected 99 stumpings in ODIs.
Ricky Ponting
Third on our list is Ricky Ponting with 13,704 runs in 375 ODIs at an average of 42.03 and a strike rate of 80.39 with 30 centuries and 82 half-centuries. Like Tendulkar, Ponting was a teenage prodigy who increased his potential, practicing non-stop and constantly improving his skills.
Ponting excelled in the pull and cover drive and his overall attacking game was a key to him scoring plenty of runs a match for Australia. In addition, Punter was an excellent fielder too with a dead-eye throw. He was also a smart captain whose winning percentage in ODIs in the best one in history.
Sanath Jayasuriya
The Matara Marauder's Sanath Jayasuriya is fourth on our list with 13,430 runs in 445 ODIs at an average of 32.36 and a strike rate of 91.20 with 28 hundreds and 68 fifties. Jayasuriya began his career as a spinner who could also bat a bit but his powerful strokeplay soon started to stand out. His success in ODIs began after his promotion to an opener in 1993. He was one of the key figures of Sri Lanka's memorable ODI World Cup triumph in 1996.
Moreover, Jayasuriya proved to be a canny spinner, taking 323 wickets in ODIs to stake his claim as a leading all-rounder. He led Sri Lanka to the semi-final of the 2003 ODI World Cup and his batting skills helped his nation reach the final of the 2007 ODI World Cup. Jayasuriya continued to excel in ODIs until the age of 42 when he retired. In 2010, he was elected a member of the Sri Lankan parliament, enjoying success in the political arena.
Mahela Jayawardene
The fifth place of the list has been taken by Mahela Jayawardene, also of Sri Lanka, with 12,650 runs in 448 ODI games at an average of 33.37 and a strike rate of 78.86 with 19 hundreds and 77 half-centuries. Jayawardene has shown himself a classy and prolific batsman, scoring more than 10,000 runs in both ODIs and Tests. His favourite shots were the cover drive and leg-side flick. He also played delightful late cuts against spinners and pacers.
Jayawardene was a smart captain who guided Sri Lanka to the semi-final of the 2007 ODI World Cup. His mastered skills and innovative batting technique played a key role in him scoring a memorable unbeaten hundred, albeit in a losing cause, in the 2011 ODI World Cup final against India.
Virat Kohli
Virat Kohli is the only active player on our list and is currently sixth with 11,867 runs at an impressive average of 59.33 and a strike rate of 93.25 with 43 hundreds and 58 fifties. Throughout his career, Kohli has established a reputation as one of the best chasers in limited-overs formats with several performances outranking some of Sachin Tendulkar's ODI records. His batting excellence is based on perfect technique and supreme physical shape.
Kohli is already considered one of the most successful captains India has ever had in Tests and ODIs. He is one of the biggest celebrities in India and is married to glamorous Bollywood actress Anushka Sharma. This star couple is constantly in the limelight and their names regularly appear in the Indian news. Moreover, Kohli is one of the highest-earning sportspersons in the world.
Inzamam-ul-Haq
Inzy of Pakistan is the last but definitely not least in the ranking with 11,739 runs in 378 ODIs at an average of 39.52 and a strike rate of 74.24 with 10 centuries and 83 half-centuries. His right mixture of strength and subtlety are the key elements of his magic formula to become one of the best batsmen Pakistan has ever had. In addition, Inzy has proved to be an able captain, guiding his nation to many triumphs in Tests and ODIs.
Inzamam has also excelled in Tests with more than 8,000 runs in this format with 25 hundreds and 46 fifties. Retired now, he continues to be part of the cricket world serving as a chief selector of Pakistan.
| | | | | | | | | | |
| --- | --- | --- | --- | --- | --- | --- | --- | --- | --- |
| # | Player | Team | Mat | Inn | Runs | Highest | 100s | 50s | Avg |
| 1 | S R Tendulkar | India | 463 | 452 | 18,426 | 200* | 49 | 96 | 44.83 |
| 2 | K C Sangakkara | Sri Lanka | 404 | 380 | 14,234 | 169 | 25 | 93 | 41.99 |
| 3 | R T Ponting | Australia | 375 | 365 | 13,704 | 164 | 30 | 82 | 42.04 |
| 4 | S T Jayasuriya | Sri Lanka | 445 | 433 | 13,430 | 189 | 28 | 68 | 32.36 |
| 5 | D P M D Jayawardene | Sri Lanka | 448 | 418 | 12,650 | 144 | 19 | 77 | 33.38 |
| 6 | V Kohli | India | 248 | 239 | 11,867 | 183 | 43 | 58 | 59.34 |
| 7 | Inzamam-ul-Haq | Pakistan | 378 | 350 | 11,739 | 137* | 10 | 83 | 39.53 |
| 8 | J H Kallis | South Africa | 328 | 314 | 11,579 | 139 | 17 | 86 | 44.36 |
| 9 | S C Ganguly | India | 311 | 300 | 11,363 | 183 | 22 | 72 | 41.02 |
| 10 | R Dravid | India | 344 | 318 | 10,889 | 153 | 12 | 83 | 39.17 |
| 11 | M S Dhoni | India | 350 | 297 | 10,773 | 183* | 10 | 73 | 50.58 |
| 12 | C H Gayle | West Indies | 301 | 294 | 10,480 | 215 | 25 | 54 | 37.83 |
| 13 | B C Lara | West Indies | 299 | 289 | 10,405 | 169 | 19 | 63 | 40.49 |
| 14 | T M Dilshan | Sri Lanka | 330 | 303 | 10,290 | 161* | 22 | 47 | 39.27 |
| 15 | Mohammad Yousuf | Pakistan | 288 | 273 | 9,720 | 141* | 15 | 64 | 41.72 |
| 16 | A C Gilchrist | Australia | 287 | 279 | 9,619 | 172 | 16 | 55 | 35.89 |
| 17 | A B de Villiers | South Africa | 228 | 218 | 9,577 | 176 | 25 | 53 | 53.50 |
| 18 | M Azharuddin | India | 334 | 308 | 9,378 | 153* | 7 | 58 | 36.92 |
| 19 | P A de Silva | Sri Lanka | 308 | 296 | 9,284 | 145 | 11 | 64 | 34.90 |
| 20 | R G Sharma | India | 224 | 217 | 9,115 | 264 | 29 | 43 | 49.27 |
| 21 | Saeed Anwar | Pakistan | 247 | 244 | 8,824 | 194 | 20 | 43 | 39.22 |
| 22 | S Chanderpaul | West Indies | 268 | 251 | 8,778 | 150 | 11 | 59 | 41.60 |
| 23 | Yuvraj Singh | India | 304 | 278 | 8,701 | 150 | 14 | 52 | 36.56 |
| 24 | D L Haynes | West Indies | 238 | 237 | 8,648 | 152* | 17 | 57 | 41.38 |
| 25 | L R P L Taylor | New Zealand | 232 | 216 | 8,574 | 181* | 21 | 51 | 48.44 |
| 26 | M S Atapattu | Sri Lanka | 268 | 259 | 8,529 | 132* | 11 | 59 | 37.57 |
| 27 | M E Waugh | Australia | 244 | 236 | 8,500 | 173 | 18 | 50 | 39.35 |
| 28 | V Sehwag | India | 251 | 245 | 8,273 | 219 | 15 | 38 | 35.06 |
| 29 | H M Amla | South Africa | 181 | 178 | 8,113 | 159 | 27 | 39 | 49.47 |
| 30 | H H Gibbs | South Africa | 248 | 240 | 8,094 | 175 | 21 | 37 | 36.13 |
Similar articles