06.10.2020,16:10 396 0
10 Batsmen with the Highest Batting Averages in ODI Cricket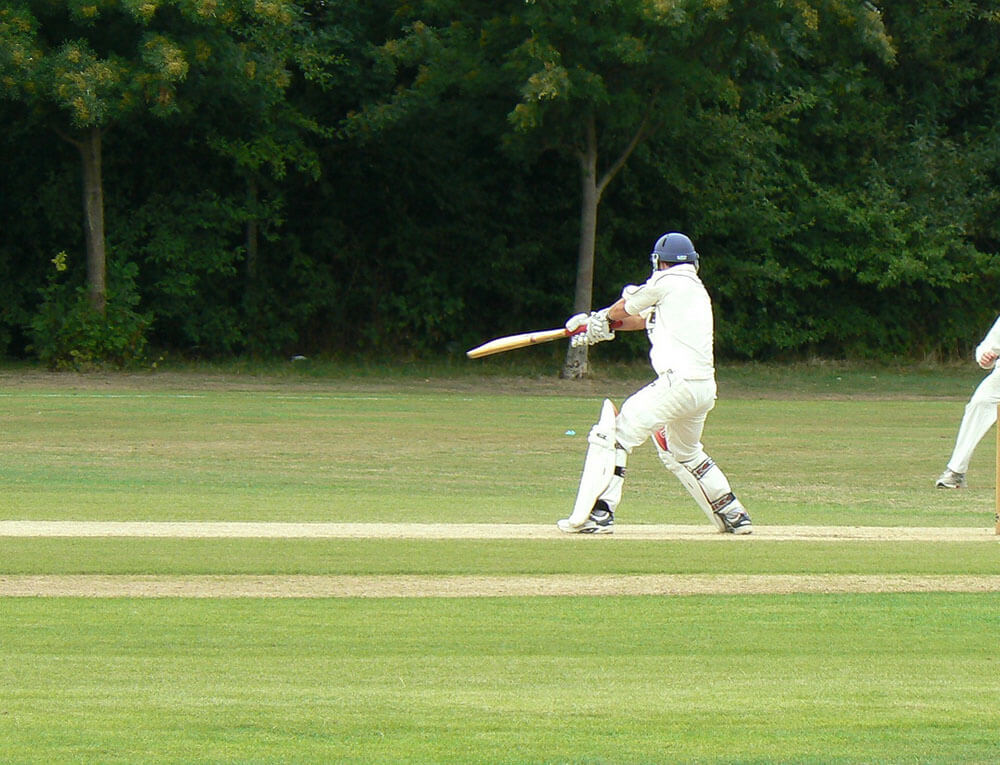 The first ODI match was played in 1971 in Melbourne between England and Australia. Since then, the format has flourished and attracted many new followers to the game. Even though T20 cricket offers more excitement, ODIs are a combination of the best features of Test and T20 formats. Batsmen get more time to settle down and play long innings. Bowlers are challenged with fielding restrictions and powerplays. Thus, it requires a rare talent to excel as a batsman or bowler in ODIs.
In this article, we are going to analyse career stats and records of the top 10 batters with the highest averages in ODIs. The list includes current players like Virat Kohli and Babar Azam who seem to be on their way to all-time greatness.
1. Ryan ten Doeschate (NL) – 67.00
Quite surprisingly, our list is topped by the Netherlands' Ryan ten Doeschate who played in 33 ODIs in the period from 2006 to 2011. He cracked 1,541 runs in 32 essays at an average of 67.00 and a scoring rate of 87.70 with 5 hundreds and 9 fifties. His highest ODI score was 119.
Ten Doeschate was also an excellent right-arm medium-fast bowler who bagged 55 wickets in ODIs at an average of 24.12, an economy rate of 5.03 and a strike rate of 28.7 with 3 four-fors. His best ODI figures were 4/31.
Ten Doeschate's high batting average can be explained by 9 not outs. His all-round skills won him a contract with the Kolkata Knight Riders franchise in the IPL (Indian Premier League) and he played for this team in the league's five editions. He smashed two hundreds in the 2011 ODI World Cup, including a beauty that almost stunned England. In the ICC Intercontinental Cup, he clobbered four consecutive scores of over 100 to earn the ICC Player of the Year award for affiliated and associated teams.
2. Virat Kohli (Ind) – 59.33
Indian skipper Virat Kohli is arguably the best batsman in the white-ball formats today. He has featured in 248 ODIs and amassed 11,867 runs at an average of 59.33 and a scoring rate of 93.25 with 43 centuries and 58 half-centuries. His highest ODI score is 183.
Kohli boasts averages of over 50 in Tests and T20I cricket too. He has thus ably filled the shoes of Sachin Tendulkar and led India to glory after the former's retirement. Kohli is also the skipper of Royal Challengers Bangalore in the IPL. He seems fit to play for a few more years and may break many more records in the days to come.
Kohli loves chasing challenges and has guided India to many famous victories while batting second. He is the first batter to amass 20,000 runs in international cricket in a single decade. With 43 ODI hundreds already to his credit, he looks set to break Tendulkar's record of 51 centuries in this format.
3. Babar Azam (Pak) – 54.17
Babar Azam is an elegant modern batsman whose current ODI average of 54.17 places him third on our list. He made his ODI debut in May 2015 against Zimbabwe in Lahore. Since then, he has starred in 74 games, clobbering 3,359 runs at an average of 54.17 and a scoring rate of 87.08 with 11 hundreds and 15 fifties. His highest ODI score is 125 not out. His average is boosted by 10 not outs.
In addition, Azam has impressive current averages of 45.44 in 29 Tests and 49.93 in 41 T20Is. He is a cousin of the three Akmal brothers – Adnan, Umar and Kamran. Azam gained recognition after slamming three successive tons versus the Windies in 2016 in the UAE, which helped Pakistan win the series 3-0. This led to his inclusion in the Test squad.
Zimbabwe's 2015 Pakistan tour signalled the return of international cricket to that troubled nation. It also gave Babar Azam to Pakistan cricket and he has since then established himself as a vital cog in their batting lineup. In the 2019 ODI World Cup, the Lahore lad beat the legendary Javed Miandad's Pakistani record of 474 runs in one edition. Babar Azam thus looks set to join the ranks of all-time great Pakistani batsmen with his tremendous potential backed by dedication and hard work.
4. Imam-ul-Haq (Pak) – 53.84
Imam-ul-Haq is a left-handed opener in the Pakistan team and he is currently matching Babar Azam's splendid exploits. He made his ODI debut in October 2017, playing against Sri Lanka in Abu Dhabi. As of September 2020, he has appeared in 37 ODIs, stroking 1,723 runs at an average of 53.84 and a scoring rate of 80.47 with 7 tons and 6 fifties. His highest ODI score is 151. He has five not outs to his credit so far.
Imam is only the second batsman from Pakistan to hit a hundred on ODI debut. He partnered Fakhar Zaman to record a 304-run opening partnership against Zimbabwe. His ODI highest score of 151 is also the highest score in an ODI by a Pakistani batter against England. Imam is the fastest Pakistan batsman to score 1,000 ODI runs, in just 19 innings. This bespectacled cricketer is an adroit player of pace and spin alike and is currently just 24 years old.
5. Michael Bevan (Aus) – 53.58
Michael Bevan is undoubtedly one of the best finishers in the history of ODI cricket. He was noted for his skilful cuts and smooth drives that allowed him to rotate the strike by stealing cheeky ones and twos. Bevan was also lightning quick between the wickets. He could play cautiously and accumulate runs safely in the beginning and could also slam big hits in the final overs if the asking rate mounted.
Bevan's ODI career spanned from 1994 to 2004 and he featured in a total of 232 ODIs, smashing 6,912 runs at an average of 53.58 and a scoring rate of 74.16 with 6 hundreds and 46 fifties. His highest ODI score was 108 not out. Bevan's batting average was boosted by 67 not outs and most of the time he was able to successfully help Australia reach the target.
The opposing team knew that the Aussies were in the game as long as Michael Bevan remained not out. Bevan guided Australia to 45 successful chases and he has undoubtedly been one of the best ODI batsmen produced by that country.
6. AB de Villiers (SA) – 53.50
Adjectives like magical, artistic, elegant, skilful and talented can be used to describe AB who has been one of the best players of all time in the white-ball formats. His ODI career spanned from 2005 to 2018 and he starred in a total of 228 games, hammering 9,577 runs at 53.50 average and a 101.09 strike rate with 25 tons and 53 fifties. His highest ODI score is 176.
AB also boasts an average of 50.66 in 114 Tests. In addition, he was a remarkable fielder and s competent wicket-keeper too. AB also has 176 catches in ODIs which highlights his all-round value to the South African team.
Fans from around the world are asking AB to come back and play international cricket but he does not seem to be interested. He looks content with playing in global T20 leagues and currently appears for Royal Challengers Bangalore in the IPL.
7. Shai Hope (WI) – 52.20
Shai Hope is the only West Indies player on our list. He is a capable wicket-keeper-batsman with safe hands and excellent hitting skills. Hope made his ODI debut against Sri Lanka in Harare in November 2016. As of October 2020, he has played 78 ODIs, amassing 3,289 runs at an average of 52.20 and a scoring rate of 74.37 with 9 hundreds and 17 fifties. His highest score in an ODI is 170. He has taken 83 catches and effected 10 stumpings in ODIs.
Hope gained worldwide attention when he scored two hundreds at Headingley in the Test series in 2018 and helped the Windies successfully chase 322 in the fourth innings. He lends solidity and consistency to an otherwise fragile-looking batting lineup. Hope's current age is just 26 years so he has many years to set more records and make his name in international cricket.
8. Jonathan Trott (Eng) – 51.25
Jonathan Trott grabs the eighth spot with an average of 51.25 in ODIs. He was a talented top-order batsman who played in ODIs from 2009 to 2013. In total, he appeared in 68 games, knocking 2,819 runs at a 51.25 average and a scoring rate of 77.06 with 4 hundreds and 22 fifties. His highest score was 137.
Trott retired somewhat prematurely from international cricket after facing mental trauma and anxiety problems during the Australia tour of 2013-14. Australia whitewashed the Poms 5-0 in that Ashes series. Trott was also a consistent batsman in Tests and scored 3,835 runs in 52 matches at an average of 44.08 with 9 tons and 19 half-centuries. His highest Test score was 226.
Trott was born in Cape Town in 1981. His father was British and mother South African. He played for the South African u-15 to u-19 level sides and in domestic cricket, represented the Western Province and Boland sides. However, Trott got bored in South Africa and wanted to achieve more in life. He used his British passport and arranged to play trial games in England.
Trott was helped by Bob Woolmer who coached Warwickshire and South Africa. Thus, he shifted allegiance to Birmingham from Cape Town and became an international cricketer for England.
9. MS Dhoni (Ind) – 50.57
Along with Virat Kohli and Michael Bevan, MS Dhoni stakes a claim to be named one of the best finishers in the history of cricket. He would often hit winning runs in the final over to make a game more exciting for spectators. Dhoni recently announced his retirement from international cricket. He played ODIs from 2004 to 2019.
In total, Dhoni played 297 innings in 350 games, smashing 10,773 runs at an average of 50.57 and a scoring rate of 87.56 with 10 hundreds and 73 fifties. His highest ODI score was 183 not out and his average was boosted by 84 not outs. Dhoni was also an astute skipper in all three formats and led India to many glorious triumphs. He is a top-notch wicket-keeper with the splendid presence of mind and lightning-fast hands. He has taken 321 catches and made 123 stumpings in ODIs.
Dhoni is famous for inventing the 'helicopter shot' which he plays by hoicking the ball off his legs over the mid-wicket boundary. He is the skipper of the Chennai Super Kings franchise in the IPL. Dhoni also has excellent averages of 38.09 in 90 Tests and 37.60 in 98 T20Is.
10. Joe Root (Eng) – 50.10
Joe Root captains England in Tests but not in ODIs. He is a run-machine in all three formats. Root made his ODI debut against India in Rajkot in 2013. As of October 2020, he has starred in 149 ODIs, hammering 5,962 runs at an average of 50.10 and a scoring rate of 86.90 with 16 hundreds and 33 fifties. His highest ODI score is 133 not out.
Root also has excellent averages of 47.99 in Test cricket and 35.72 in T20Is. He is known for his booming punches and robust drives. In addition, he can cunningly bowl off-spin to snare surprise wickets.
Honourable Mentions
South Africa's Hashim Amla is 11th with an average of 49.46 in ODIs. He played a total of 181 matches from 2008 to 2019, cracking 8,113 runs at a scoring rate of 88.39 with 27 hundreds and 39 fifties. His highest ODI score is 159.
India's prolific Rohit Sharma is currently 12th with an ODI average of 49.27. He has featured in 224 ODIs to date, stroking 9,115 runs at a scoring rate of 88.92 with 29 hundreds, including 3 double centuries and 43 fifties. His highest ODI score is a world-record 264.
Similar articles