10.09.2020,13:09 359 0
Highest Opening Partnership in ODI Cricket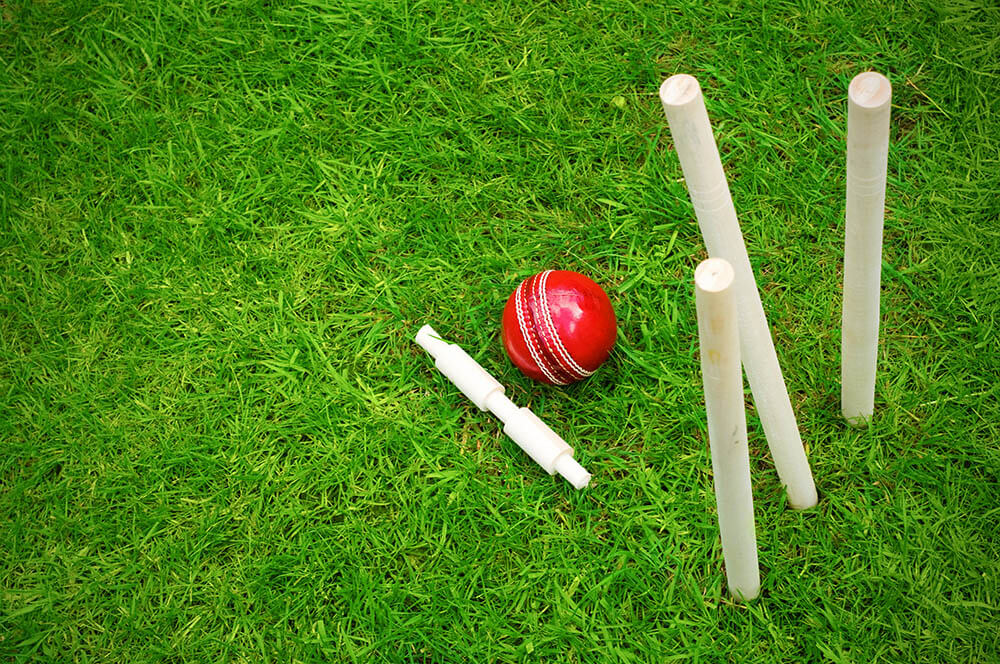 In this article, we are going to take a look at the top 10 highest opening partnerships in ODI cricket. The world record has passed through the hands of Ganguly and Tendulkar, Tharanga and Jayasuriya, Haq and Zaman to be currently owned by Campbell and Hope.
JD Campbell, SD Hope: 365
John Campbell and Shai Hope set the world record for the highest opening partnership in ODI cricket when they put on 365 on 5 May 2019 against Ireland at Dublin in the first match of a tri-nation series. The batsmen played themselves in gradually: after 10 overs, the score was 37; after 20, it was 105; after 30, it was 185. In fact, the first six came as late as the 28th over when Campbell carted Josh Little over wide long on. But the batsmen's confidence grew as the innings progressed. By the time Campbell was finally out in the 48th over, he had scored 179 off 137 balls with 15 fours and 6 sixes. Hope who got out three balls later made 170 off 152 balls with 22 fours and 2 sixes. The West Indies went on to score 381/3 before bowling out Ireland for 185 to register a 196-run win.
Imam-ul-Haq, Fakhar Zaman: 304
On 20 July 2018 in the fourth ODI held at Bulawayo on Pakistan's tour of Zimbabwe, Haq and Zaman set a world record, beating the previous mark of 286 made in 2006. While Haq scored 113 off 122, Zaman, whose share in the partnership was 169, used the opportunity to record the first ODI double hundred scored by a Pakistan batsman, making an unbeaten 210 off 156 balls with 24 fours and 5 sixes. After Haq had lost his wicket in the 42nd over, Pakistan went on to pile up 399/1 before skittling the Zimbabwe batsmen out for 155.
Tamim Iqbal, Liton Das: 292
Bangladesh's Iqbal and Das made their nation proud by engaging in the third-highest ODI partnership for the first wicket when they put on 292 on 6 March 2020 at Sylhet against the touring Zimbabwe team. In a match curtailed by rain to 43 overs a side, the pair set the mark in 40.5 overs when Das got out for a well-made 176 off 143 balls with 16 fours and eight sixes, while Iqbal's share was 110. Bangladesh went on to score 322/3 and Zimbabwe, in reply, could make only 218 in 37.3 overs.
WU Tharanga, ST Jayasuriya: 286
Tharanga and Jayasuriya's world record was even more impressive because it came in a successful chase against England at Leeds on1  July 2006. When England batted first and scored 321/7 in 50 overs, they would have considered the match in the bag. However, they hadn't had even the slightest idea of a monstrous partnership of 286 in 31.5 overs, when Tharanga was out for 109 off 102 balls, which made the score look puny. Jayasuriya's share in the partnership was 152 off 99 balls with 20 fours and 4 sixes, helping Sri Lanka to scale the target with 8 wickets and 75 balls to spare.
DA Warner, TM Head: 284
On 26 January 2017 on Pakistan's tour of Australia, David Warner and Trevor Head came within a whisker of breaking the then partnership record for the first wicket. Aggressive from ball one, Warner made 179 off 128 balls with 19 fours and 5 sixes before he was out in 41.3 overs, while Head contributed 100. In reply to Australia's eventual score of 369/7, Pakistan made 312 before being bowled out in the last over.
Q de Kock, HM Amla: 282
In the first of the series on Bangladesh's tour of South Africa on 15 October 2017, De Kock and Amla formed an unbeaten partnership of 282 to help register a 10-wicket win against the visitors. After Bangladesh had put up a total of 278/7 on the board, the South African opening pair knocked off the required runs in 42.5 overs. De Kock scored 168 from 145 balls with 21 fours and 2 sixes, while Amla's share was 110 off 112 balls. 
WU Tharanga, TM Dilshan: 281
In the 26th match of the ICC World Cup played against Zimbabwe on 10 March 2011 at Pallekele, Tharanga and Dilshan fell agonisingly short of breaking the then ODI record partnership for the first wicket set by Tharanga himself in the company of Jayasuriya. While Tharanga scored 133 in 41 balls with 17 fours, Dilshan's share was 139. Sri Lanka went on to post 327/6 before bowling out Zimbabwe for 188.
JAH Marshall, BB McCullum: 274
On 1 July 2008, New Zealand openers Marshall and McCullum were involved in a 274-run partnership, helping their team to a final score of 402/2 in reply to which Ireland got bowled out 112, handing the Kiwis a facile 290-run victory. The partnership ended when McCullum got out for 166 off 135 balls with 12 fours and 10 sixes. Like McCullum, Marshall registered his maiden test ton, eventually getting out for 161 in 141 balls with 11 fours and 4 sixes.
DA Warner, AJ Finch: 258
On 14 January 2020 in the first game of the series on Australia's tour of India held at Mumbai, Australian openers Warner and Finch posted an unbeaten partnership of 258 to ensure a 10-wicket victory over the home team. While Warner made 128 runs off 112 balls with 17 fours and 3 sixes, Finch scored 110 runs in 114 balls, including 13 fours and 2 sixes. Earlier, India were bowled out for 255 runs, thanks to some fine bowling by the Australian bowlers Starc, Cummins, Richardson, Zampa and Agar.
SC Ganguly, SR Tendulkar: 258
India's openers Saurav Ganguly and Sachin Tendulkar bettered their own world-record partnership for the first wicket set in 1998 when they faced Kenya at Paarl on 1 October 2001. They added six runs to the previous record of 252 when, batting first, India posted a score of 351/3. Kenya's reply fell well short as they reached 165/5 in their allotted 50 overs. The partnership ended when Ganguly scored 111 runs off 124 balls with 7 fours and 3 sixes. Sachin went on to score 146 from 132 balls, including 17 fours.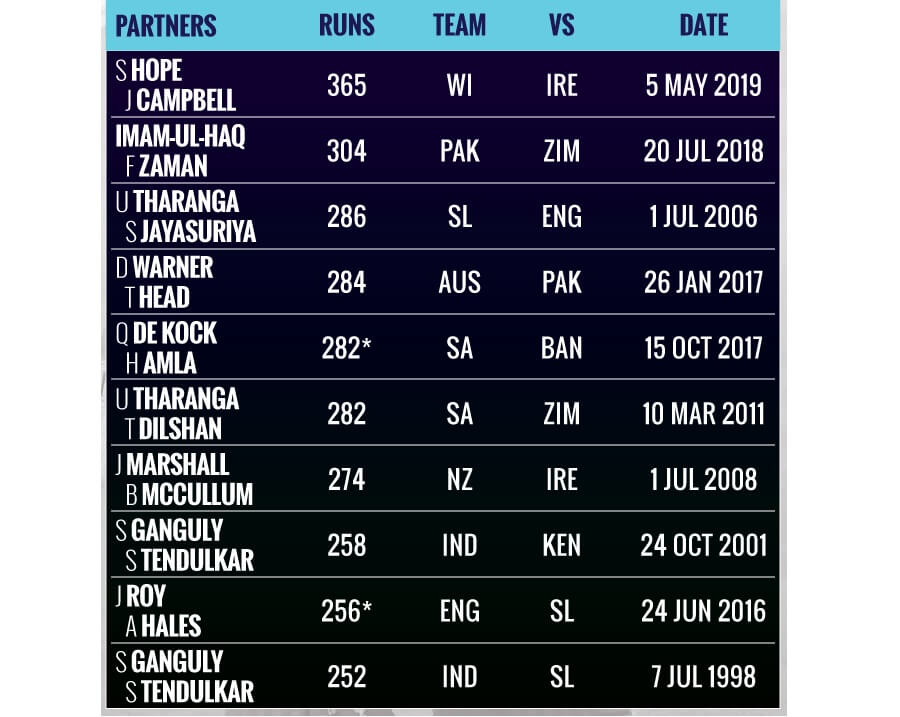 Similar articles