25.08.2020,16:08 350 0
Top 10 Fastest One Day International Centuries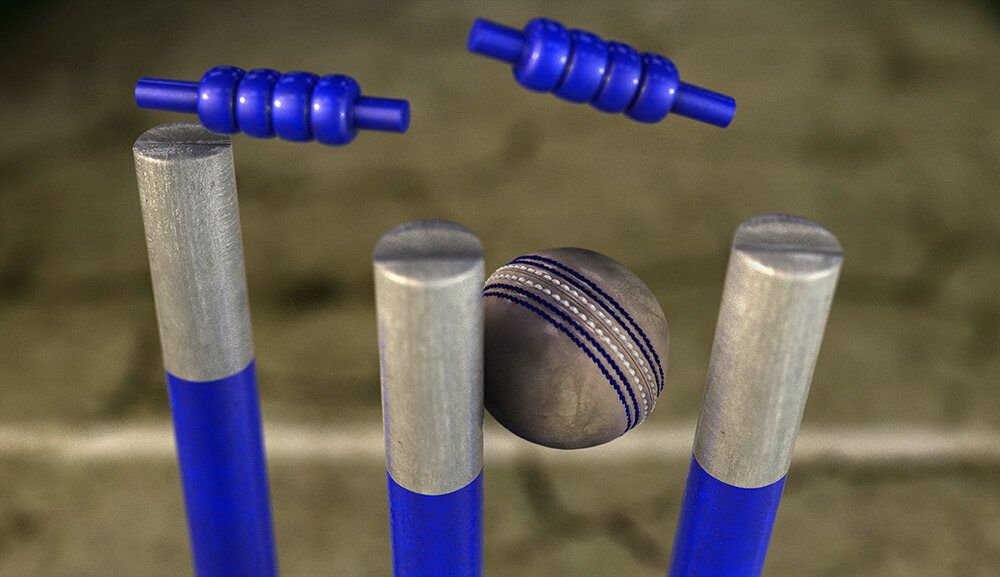 Very few sports have developed at the same breakneck speed one-day cricket has had over the past couple of years. Dating back to the 1990s and early 2000s, a 50-over innings was seen as an attritional game, where players got themselves in before teeing off in the last few overs to maximise their team's score.
Over the past decade, however, ODI cricket has been heavily influenced by Twenty 20 cricket and big hitting has been a common sight across all of the top cricketing nations. As a result, the speed at which teams go about scoring runs has been vastly increased, with opening batsmen now keen to take more risks when there is pace on the ball and fielding sides having to protect the boundaries from the outset.
A knock-on effect of this has been breaking records in one-day cricket for the fastest individual international centuries. Of the top 30 fastest one day international tons, only 4 took place prior to 1999 – a clear indicator of the changed tempo from batsmen all over the world. The introduction of powerplays at the start of innings and batting powerplays (a period where batsmen can choose when to limit the number of fielders allowed on the boundary) have also contributed to the increase in scoring from international batsmen in ODI cricket.
One-day cricket sits very much in the middle of the international cricketing landscape, with the Test and Twenty 20 arenas seen as having their own specific audience, ODI cricket appeals to all cricket fans. Public opinion on 50-over cricket seemed to be dwindling in the mid-2010s, with T20 franchise leagues popping up all over the world and ODI cricket seemingly on the wane. However, the ICC World Cup was as hotly contested as ever in 2019, with England lifting the trophy for the first time. In addition, the ICC Champions Trophy has been a fixture within the international cricketing calendar for a long time and continues to grow in notoriety – making one-day cricket one of the most competitive formats of the game across the world.
For the associate nations, One Day International cricket is also seen as a big stepping stone towards gaining full membership status. Sides such as Afghanistan, Bangladesh and Ireland have all proven themselves in one-day international cricket and the infrastructure put in place has allowed countries to kick on from ODI cricket and eventually begin playing Test match cricket.
With the state of One Day International cricket arguably the strongest it has ever been, the wealth of batting talent across the globe and the expression with which cricketers play, is seeing the game go from strength to strength.
On the field, One Day International cricket has helped the overall game of cricket evolve significantly over the past 25 years. Batsmen are generally far more confident at the crease and the requirement to score runs quickly in ODI cricket has fed into both the Test and Twenty 20 international arenas. The consequence of this is players being able to register some phenomenal scores in record time as they've looked to be positive from the off in ODI cricket and amass as many runs as possible.
Here is a rundown of the top 10 individual scores in One Day International cricket:
10. Jos Buttler – ENGLAND vs Pakistan – 2019
110* (100 from 50 deliveries)
2019 was a special year for English cricket, with the Lions claiming their first-ever ODI World Cup crown. Wicket-keeper-batsman Jos Buttler is one of the most destructive players in the game and his first of two entries on this prestigious list came in a World Cup warm-up fixture against Pakistan. England lost the toss to  Pakistan and had to bat, a decision that Eoin Morgan's side benefited from hugely. After getting off to a good start thanks to Jason Roy, Jonny Bairstow and Joe Root, England looked to be heading towards a grandstand finish with captain Morgan and Jos Buttler at the crease. Southampton's Rose Bowl had never seen hitting like that, with Buttler clobbering 110* from 55 balls in an innings that included 6 x 4's and 9 x 6's as the Lancashire man smashed the young Pakistan attack to all parts and England went on to win the match by 12 runs.
9. Sanath Jayasuriya – SRI LANKA vs Pakistan – 1996
134 (100 from 48 deliveries)
While few would have expected it at the time, Sri Lanka were on the verge of cricketing greatness in 1996. Their young side would go on to clinch their only ever ICC World Cup trophy later that year and opening batsman Sanath Jayasuriya was a huge part of their success. The aggressive left-hander took absolutely no prisoners and his performance against Pakistan in Singapore in 1996 was devastating. Despite being armed with a potent bowling attack including Waqar Younis and Saqlain Mushtaq, Pakistan had no answer as Jayasuriya teed off from the outset. His century came off 48 balls (a then world record) as he blasted 22 boundaries in an extraordinary innings. Sri Lanka went on to win the game by 34 runs at what was the start of a golden period for Sri Lankan cricket.
8. Jos Buttler – ENGLAND vs Pakistan – 2015
116* (100 from 46 deliveries)
Remarkably, Jos Buttler's second appearance on the prestigious list came some 4 years earlier against the same opposition – Pakistan. In a game played in the UAE as Pakistan continued to ply their trade away from home, England won the toss in searing heat and decided to bat first. Jason Roy and Joe Root helped lay the foundations for England, who were a side rebuilding after a humiliating 2015 World Cup, and they looked well set as Buttler came out to the crease with just 15 overs remaining. What happened next was extraordinary as Buttler bludgeoned his way to 116 not out – reaching his century from just 46 balls as England went on to win the match by 84 runs.
7. Jesse Ryder – NEW ZEALAND vs West Indies – 2014
104 (100 from 46 deliveries)
Two of the most incredible displays of hitting are associated with this memorable match in Queenstown and opener Jesse Ryder is the first New Zealander to make an appearance on this list following this game. Heavy morning rain had seen the game be reduced to a 21 over bash and the West Indies fancied their chances in bowler-friendly conditions and having won the toss, elected to bowl first. The Kiwis, however, were a side possessed and Jesse Ryder took the West Indian bowling attack to all parts, registering 12 x 4's and 5 x 6's on his way to his century off just 46 balls. His innings set the tempo for New Zealand who went on to finish on 283/4 off just 21 overs and they beat the West Indies by 159 runs.
6. Shahid Afridi – PAKISTAN vs India – 2005
102 (100 from 45 deliveries)
When it comes to sporting rivalries, cricket between Pakistan and India is about as hotly contested as it gets. With packed houses baying for blood, Indian cricket arenas are tough places to play but Shahid Afridi produced one of the all-time knocks in 2005. India batted first in Kanpur and reached 249/6 on a turgid pitch thanks to telling contributions from Rahul Dravid and Mohammed Kaif. What followed was extraordinary. Shahid Afridi opened the batting for Pakistan and proceeded to blast an incredible 102 from 46 balls to put his side well ahead in the run chase. Although he departed in just the 14th over, Pakistan navigated their way home to win the game by 6 wickets.
5. Brian Lara – WEST INDIES vs Bangladesh – 1999
117 (100 from 45 deliveries)
A man well accustomed to topping batting records list is Brian Lara and it is no surprise to see him feature on a fastest-century table. The classy left-hander always made batting look so easy and he made short work of a primitive Bangladesh side back in 1999. In the second match of a 2-game series in Dhaka, the West Indies won the toss and chose to bat first – with captain Lara opening the innings. He then proceeded to caress the ball to all parts, scoring an incredible 117 – featuring 18 x 4's and 4 x 6's. A man not known for brute force, his fluency at the crease was fully evident that day in Dhaka and the West Indies went on to win the match by 109 runs and take the series 2-0.
4. Mark Boucher – SOUTH AFRICA vs Zimbabwe – 2006
147* (100 from 44 deliveries)
Wicket-keeper-batsman Mark Boucher was a stalwart of South African cricket throughout the 1990s and 2000s and he had his day in the sun at Potchefstroom in 2006. Having opted to bat first, South Africa took about attacking the Zimbabwe bowlers with Loots Bosman, Alviro Petersen and Jacques Kallis, all passing 50 at the top of the order. Boucher came into bat at 4 and the fireworks started. Hitting 8 x 4's and 10 x 6's on his way to a century off 44 balls, Boucher batted through to the end of the innings as the Proteas scored 418/5 off their 50 overs. Zimbabwe never threatened in reply and South Africa ended up winning by 171 runs.
3. Shahid Afridi – PAKISTAN vs Sri Lanka – 1996
102 (100 from 37 deliveries)
'Boom Boom Afridi's' second appearance on this list came some 9 years before his first one, as Pakistan took on Sri Lanka in Nairobi. Both sides were blessed with big-hitting talents and Sri Lanka won the toss and opted to field first, a decision they would ultimately rue. Batting at 3, Shahid Afridi joined captain Saeed Anwar at the crease and went to town on a Sri Lankan bowling attack that included Chaminda Vaas and Muttiah Muralitharan. Afridi hit a remarkable 11 x 6's and 6 x 4's as he reached his century off 37 balls – a record which stood for nearly 20 years at international level. Pakistan reached 371/9 off their 50 overs before bowling Sri Lanka out for 289 to take the victory by 82 runs.
2. Corey Anderson – NEW ZEALAND vs West Indies – 2014
131* (100 from 36 deliveries)
Incredibly, the second contribution to this list from this game between New Zealand and the West Indies came from Kiwi all-rounder Corey Anderson. The rain-affected match had already seen some incredible hitting following Jesse Ryder's remarkable century and few could have expected what Corey Anderson had up his sleeve. Arriving at the crease in the 8th over, Anderson joined in with Ryder – smashing the West Indies bowling attack to all parts. His total innings took less than an hour as he went past the then world record for the fastest ODI century – reaching his ton from just 36 balls. The knock included 14 x 6's and 6 x 4's as New Zealand went on to claim a comprehensive 159-run victory in Queenstown.
1. AB de Villiers – South Africa vs West Indies – 2015
149 (100 from 31 deliveries)
Few players possess the natural talent that South African legend AB de Villiers does and the Proteas enjoyed an incredible day back in 2015 as their captain broke the world record for the fastest individual ODI century. The second game of the series was all set in Johannesburg as South Africa looked to build on their opening win of the series. The West Indies remarkably chose to field first on a batsmen-friendly pitch and South Africa seriously made them pay. Openers Hashim Amla and Rilee Rossouw both registered centuries as the Proteas looked in good nick. AB de Villers came out to bat with the score at 247/1 and unleashed one of the most incredible displays of hitting ever seen. Facing just 31 balls to reach his hundred and hitting a total of 25 boundaries (16 x 6's and 9 x 4's), De Villiers smashed the existing world record and was finally out for 149 in the final over. South Africa registered 439/2 from their 50 overs with the West Indies only reaching 291/7 in reply as De Villiers's side recorded a 148-run victory.
Fastest ODI Hundred in Cricket
| | | | | |
| --- | --- | --- | --- | --- |
| Cricketers | Century | Balls Face | Opponents | Status |
| Ab de Villers | 149 | 31 | West Indies | Retired |
| Corey Anderson | 131 | 36 | West Indies | Active |
| Shahid Afridi | 102 | 37 | Sri Lanka | Retired |
| Mark Boucher | 147 | 44 | Zimbabwe | Retired |
| Brain Lara | 117 | 45 | Bangladesh | Retired |
| Shahid Afridi | 102 | 45 | India | Retired |
| Jesse Ryder | 104 | 46 | West Indies | Active |
| Jos Buttler | 116 | 46 | Pakistan | Active |
| Sanath Jayasuriya | 134 | 48 | Pakistan | Retired |
| Jos Buttler | 110 | 50 | Pakistan | Active |
| KJ O'Brien | 113 | 51 | England | Active |
| Glen Maxwell | 102 | 52 | Sri Lanka | Active |
| Virat Kohli | 100 | 52 | Australia | Active |
Similar articles